By Kathryn O'Shea-Evans
How one Arapahoe County family transformed a foreclosed farm into a pumpkin paradise.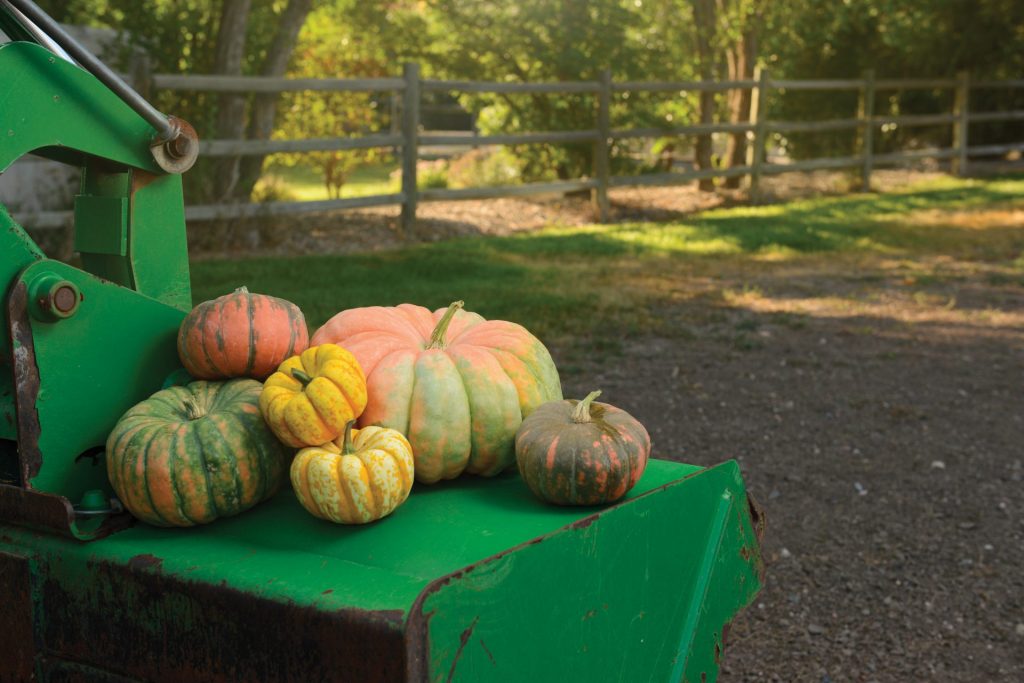 Longtime gardeners know that sometimes the most beautiful things can spring up from literal dirt. So when Susan Ward and her husband, Andy, spotted a foreclosed 1920s farm in Arapahoe County perched on 7.2 acres, they made an offer.
After years raising their own brood and farm animals on 10 acres outside of Snohomish, Wash., Colorado's near-constant sunshine felt like an elysian, and they moved here in 2012. "We made a spreadsheet [of things we were looking for in a new place to live] and Colorado checked all the boxes, with a sunny climate, recreational and economic opportunities, and a city big enough so our kids wouldn't feel like it was a small town," Susan says. "North of Seattle was just gray; it was so dreary! They have a minute-by-minute weather station at the University of Washington, and the year we moved away, there were only 72 minutes above 80 degrees that entire year—and we were on vacation that weekend!"
Their new farm took them two years to revamp before they could even move in, during which they spent eight months in a 600-square-foot apartment on the grounds with their three kids, two dogs and, in the barn, 30 chickens. "We started the farm before we actually even lived in the house," recalls Susan, whose mom was a gardener in her native Puyallup, Wash. Andy, an electrical contractor, helped lay out an uber-efficient field irrigation system similar to golf course technology: It drips for three minutes once an hour or half-hour throughout the day, and can be tweaked for each crop. "The first year, I planted 80 different varieties of all sorts of things: strawberries, raspberries, squash," Susan says.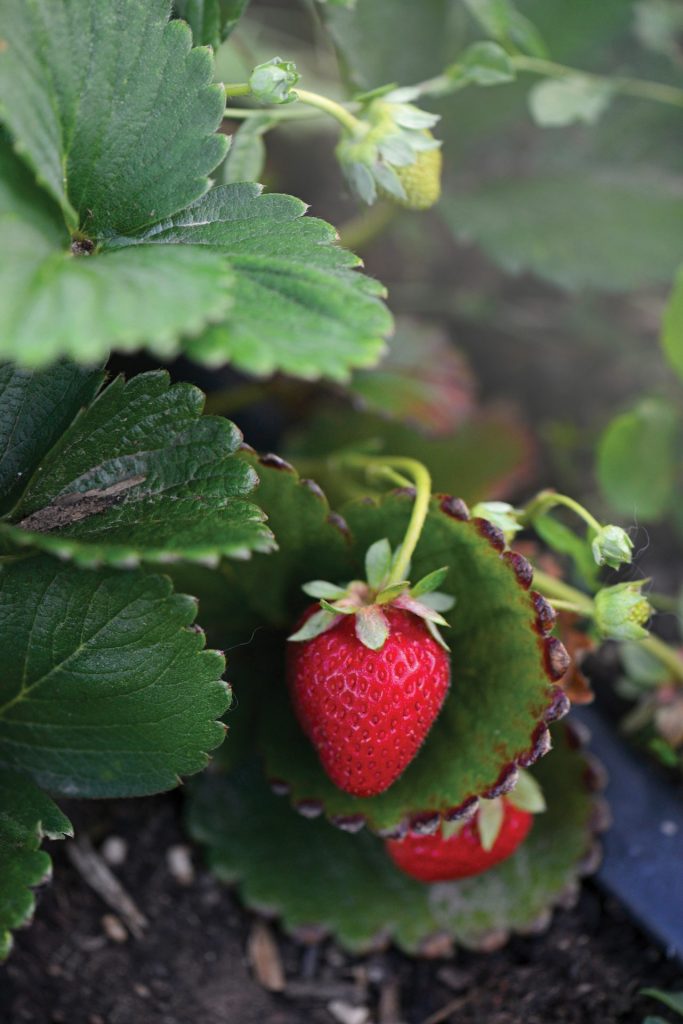 Today, the plot now known as Village Farm Colorado grows fruit (ranging from rhubarb to raspberries, which "really like Colorado") and dahlias aplenty, which are sold to florists and event planners. But their staple crop this time of year: pumpkins.
They sell out of most everything they grow year-round.
"That first year, I designated a 100-by-100-foot space on the north side of the field where I wanted to plant pumpkins; I had a plan that I was going to sell what I thought I would produce—200 pumpkins, which seemed ambitious for someone new to the neighborhood," Susan recalls.
But the land was even more fertile than they'd thought. "I started selling my first couple hundred but kept bringing in more and more and stacking them up in the garage," she says. "My husband said, 'I'd like to park in my garage this winter!'"
For weeks, Andy stayed home helping her sell the pumpkins by making cold calls, and Susan delivered them. "I'm an introvert, I can only make four phone calls a day before I'm just exhausted!" she says. Their clients the first year ranged from pumpkin pie bakeries to furniture stores that needed autumnal decorations: "Even the florists were so excited! I ended up selling 1,200 pumpkins that first year, and still had 400 left in the garage."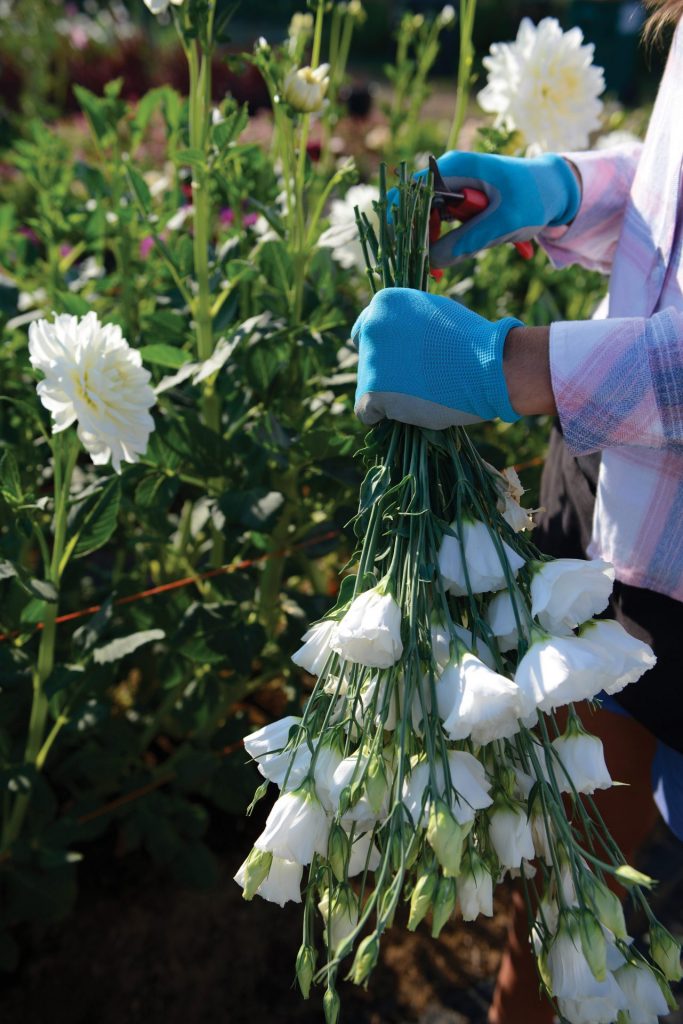 Making Ward gourds particularly (ahem) gorgeous: "Local florists like Banister's Flowers and The Ruffly Rose can also do arrangements in a full-size pumpkin if you want to get adventurous, for a bigger table display."
Village Farm Colorado's pumpkins are far from the bulbous orange gourds heaped in ginormous bins by grocery store entrances (see pg. 38). "Every year I try to find two or three new varieties that either aren't orange or have something unique about them," Susan says. One of her favorites: Knucklehead pumpkins, which are typically orange with what appear to be witch-like green warts pockmarking their surface. "You cannot get a knife into that pumpkin; it's squirrel proof!" she says. "I think I had to use an axe the first time I had to get one open." Another beloved option: North Georgia Candy Roaster. "Englewood's Sweet Jayne's bakery buys those specifically for her pies," she says of the sweet, nutty-flavored tubular pumpkin.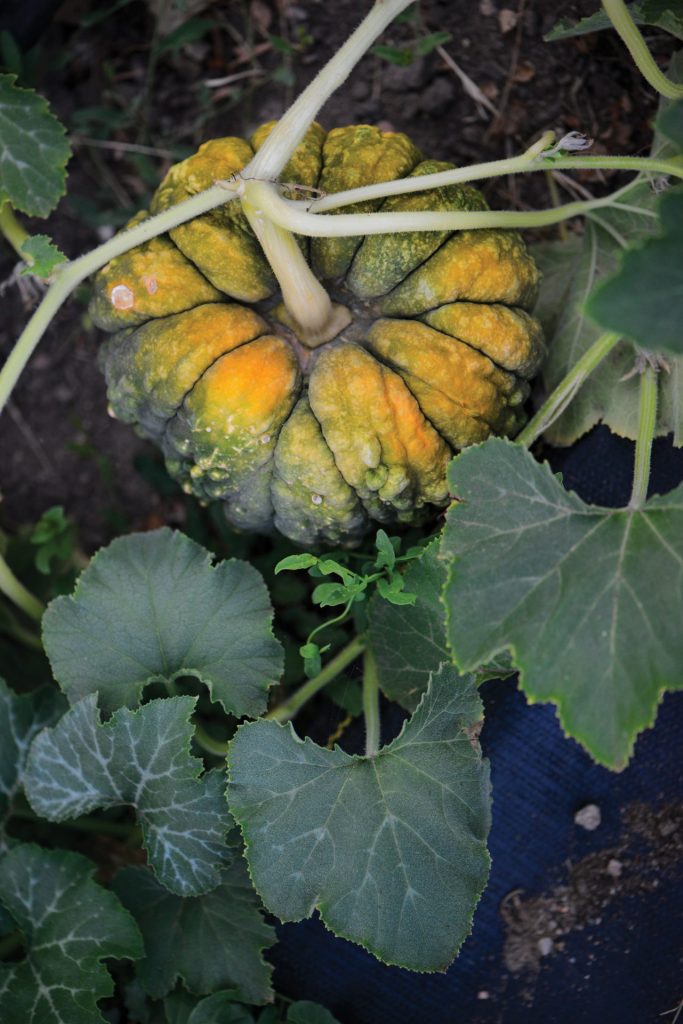 The uninitiated should know that Village Farm Colorado is not a pumpkin patch; you can place orders for pickup by appointment (prices are typically $5 per small pumpkin and $10 per large one). "This year, I'm trying 29 different types; some I've never grown before, so I don't know what they're going to look like," she says.
So, what do the couple's three kids have to say about living in a veritable Halloween wonderland? "Frankly, my kids get really sick of the pumpkins," Susan says with a laugh. Because Andy is allergic to grass, Susan hires teenagers every summer—a de facto summer camp, but for farming, with skill-building galore. Still, occasionally she has to enlist her own brood to help: "We have to bring all the pumpkins inside before it frosts, and that night they're out there with me with headlamps way past dark [helping harvest]!"
Orange You Glad There Are So Many Pumpkin Varieties?
Here, a field guide to Susan Ward's favorite winter squashes to carve, eat and love.

TO CARVE
Standard Orange:
"The ones from the church parking lots near you that support local charities like the Boy Scouts are great for carving. and often support a positive community-building organization at the same time."
Moonshine:
"Second choices in my book would be just different colors of that same type of jack-o'-lantern variety with thin skin, a large seedy void and soft inner flesh, like this white number."
Mellow Yellow: "This is similar [to a jack-o'-lantern], but has a bright yellow exterior."
TO COOK
North Georgia Candy Roaster:
"This is a great pie pumpkin for taste and texture, but it looks quite unlike most other pumpkins or winter squash. Not recommended for visual appeal!"
Long Island Cheese:
"This is another great eating pumpkin that also looks beautiful on the counter. It has a fantastic creamy texture and mellow pumpkin flavor, so it's great for soups and other creamy pumpkin foods."
Snowball: "If you get really fancy, you can hollow out a cute Snowball pumpkin to serve your favorite pumpkin soup in, as a bowl. This small white variety is similar in size to a rice bowl."
TO ADORN.
Knucklehead: "Decorating is a hard one, and somewhat subjective to your own taste and style. For those that battle squirrels each fall when they set out their fall décor, I recommend this variety if you like the traditional orange with warts. These are hard as nails and nearly impossible to penetrate even with a good carving knife."
Jarrahdale, Porcelain Doll and Tandy: "If you want softer, more modern
and muted colors that are great for indoor use, look into these."
Hooligan, Casperita and Lil' Pump-ke-mon: "For a decorative table, I like the tiny pumpkins and any cool-looking gourds or petite squash."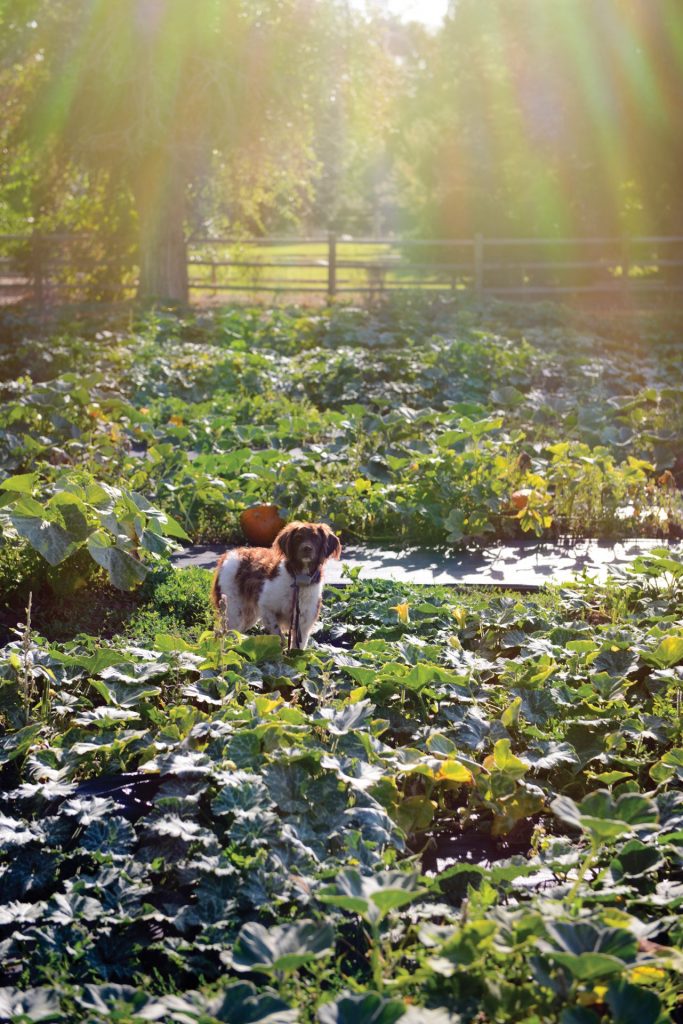 VILLAGE FARM COLORADO
villagefarmco@gmail.com | villagefarmco.com