From a young engineer in Brazil to a gourmet cake baker in Denver, Taiane Bozzay has come full circle with her first entrepreneurial venture. "Growing up in Brazil, baking and cooking was always a part of my life," she says. She carried the passion with her more than 1,000 miles northwest to Colorado, where she now creates one-of-a-kind desserts with her new company, Made by Hand Cakes.
Taiane grew up in Barra Mansa, just two hours from Rio de Janeiro, with her mom, dad, brother and grandmother nearby. "My brother and I would visit my grandmother's house where I always saw her cooking and baking for the family," Taiane says. "She taught me how to make different things like brigadeiro, pineapple cake, caramelized banana cake and dulce de leche—all made from scratch."
Even at home, Taiane was always helping her mom in the kitchen as a teenager, making meals and baking cakes for her entire family. "My favorite thing to bake when I lived in Brazil was coconut sponge cake with pineapple compote and coconut cream," she says. "It was my grandmother's recipe."
After graduating from university in Brazil with a degree in agribusiness engineering, Taiane began work as a production engineer at an Italian food company. But a strong desire to learn English led her to the U.S. in 2019 to immerse herself in the language, which is when she met her now husband, Ben Bozzay.
The couple married in 2020, which ultimately prompted a permanent move to the U.S.—and a culture shock. She quickly found herself missing the "made by hand" food she grew up with in Brazil. "I grew up with my mom making our meals with fresh foods for lunch and dinner. But when I moved here and noticed all the processed foods, I was shocked," says Taiane.
In their first few months of marriage, Taiane could not work in the U.S. until she received her visa. So, during this downtime, she began to dabble again with cooking and baking, making from-scratch foods and desserts.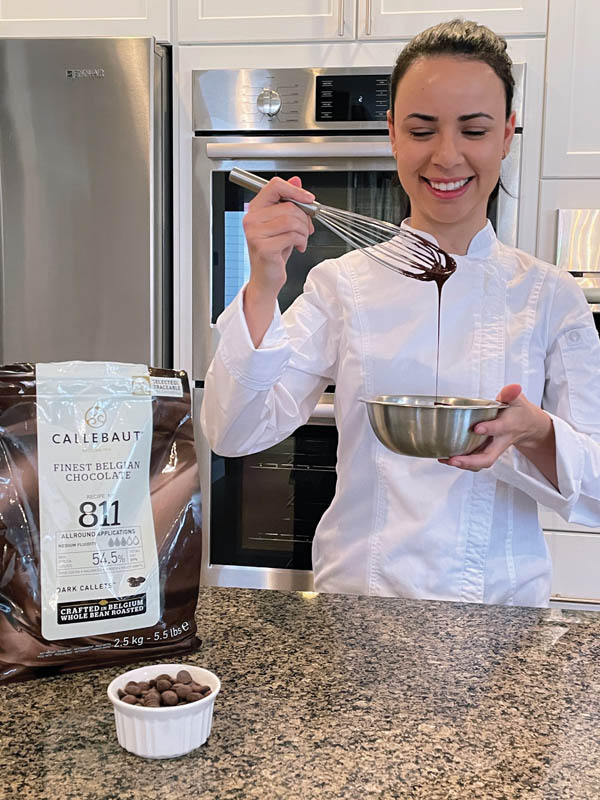 The idea for Made by Hand Cakes was practically "baked" overnight when Taiane decided to make a cake for her husband's birthday, which received much praise from family and friends. "People were asking why I wasn't doing this for a living," she says. She decided to go for it. Soon she received approval to work and decided to go into business for herself.
Mixing her passion for food and her new-found entrepreneurial spirit, she began researching on social media and watching online videos for inspiration. However, she couldn't figure out how to start marketing her cakes. Then she happened upon someone's post on NextDoor inquiring about someone to make a red velvet cake. She jumped on the opportunity.
That evening she told her husband: I sold my first cake. Eager to help his wife, Ben used his business degree and his current career as a software developer to help her form a business plan and an official website. The website launched in November 2021, and today, Taiane sells about eight cakes per month, depending on the season.
Flavor and freshness are essential to Taiane, so she takes pride in making much of the cake components from scratch, including the jam, the filling, buttercream and the sponge. Because of this dedication to the product, it's a three-day process from start to finish. "Typically, I start on Tuesday or Wednesday for weekend-delivery cakes," she says. "First day is baking, filling and jam, and then I let it rest. Second day, I piece the cake together, and the last day is for decorating."
Her cake designs are simple and delicate, with the most popular flavor being vanilla cream with strawberry jam. In addition to cakes, she makes cupcakes and, as a nod to her home country, brigadeiro. This Brazilian dessert is similar to a chocolate truffle except that its outside is soft, and it comes with a variety of toppings such as almonds, pistachios or coconut.
Currently, the company is strictly online, so all cakes are hand-delivered to customers. And because being an entrepreneur requires the help of others, her husband and friends assist in delivering the cakes. Taiane says the plan is to add additional product offerings, such as holiday mini desserts, which will kick off this fall for the upcoming holiday season. While the possibility of opening a storefront is not off the table, there are no immediate plans to do so. Taiane is happy, for now, with her sweet new venture just the way it is.