By Faerl Marie Torres
Photography By Vanessa Miranda
One woman TURNED HER TRAGEDY INTO JOY for children facing life-threatening illness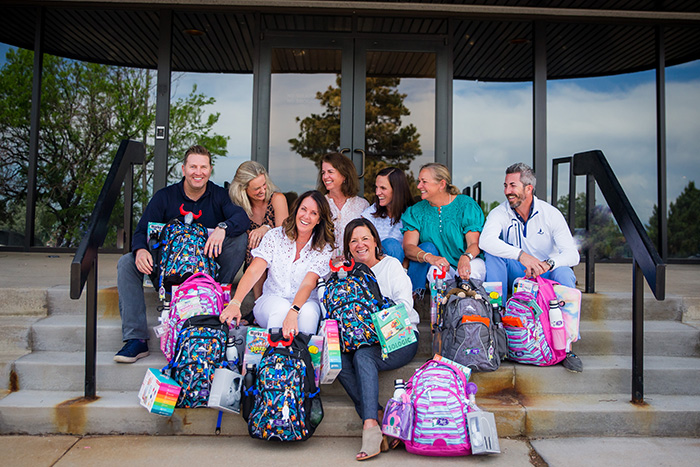 When Tammy Krause's daughter Gabby was diagnosed with cancer the day after her fifth birthday, Krause had no idea what the future held or the legacy of joy and support that Gabby's life and death would create for sick children and their families. Krause, a Denver native, former special educator and mother to six, created the first "bag of fun" to distract Gabby during her long hospital stays and create a sense of variety for the many months of treatment her daughter underwent. "Gabby would ask why other kids didn't have a bag of fun," Krause said. "She thought they needed one, too."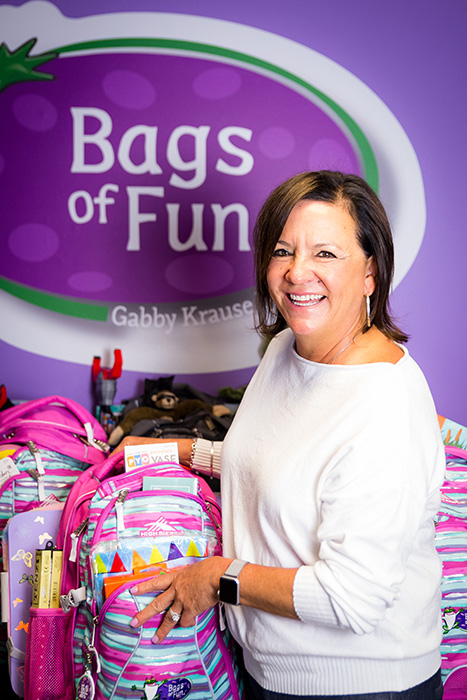 Tammy Krause, Founder & Executive Director

Gabby's generous spirit conceived the idea and shortly after her death in 2004, Krause reached out to friends and family and began the Gabby Krause Foundation to support the creation of Bags of Fun, their signature project. Nineteen years later, Bags of Fun gives away more than 500 custom bags each
year in Colorado and several hundred more across its other branches in Omaha and Kansas City.
All Bags of Fun are customized to best meet the needs and preferences of the individual children. In addition to being age and gender specific, the contents are chosen with consideration of each child's treatment conditions and limitations, ensuring it's easily enjoyed, effective and appropriate for their hospital stay.
The actual bag is a high-quality, High Sierra backpack custom made for Bags of Fun to be big enough for the 14 to 15 items from Razzle Toys, as well as headphones, a journal, a Kindle Fire, an Amazon gift card and a Bags of Fun–branded water bottle. "The bags are meant to distract and create joy and relief for kids," Krause says. "They're meant to promote play." Krause understands the importance of play both as a mom and first-hand witness of the benefits, and from the standpoint of evidence-based research.
Adyln Even, Cancer Survivor
According to a study published in Frontiers in Psychology, play promotes intellectual, emotional, and social development, helping children with cancer deal with the psychological effects of their diagnosis and circumstances surrounding long-term hospital stays and treatment sessions. This research is an important part of the Bags of Fun objective—adding scientific value to its mission and generating a deeper meaning to each bag they deliver. The fun isn't just superficial, it's part of the healing; it can improve the symptoms from treatment and help children express positive emotion, which is a critical aspect of rehabilitation.
Anne Even can attest to how encouraging the bags are for kids and their families. When her daughter, Adlyn, was diagnosed with a rare and aggressive form of cancer the family's life turned upside down. The Wyoming residents relocated to be close to Children's Hospital Colorado. "We were fortunate to get a really swift diagnosis and started chemo and radiation that week," Even says, recounting the two months they lived in Denver while Adlyn had regular treatments. "We're an active family, so it was difficult to transition to this lifestyle," Even says of the time Adlyn spent sitting, waiting and recovering from treatments. "Bags of Fun is neat because they understand the importance of play and that it's valuable and kids shouldn't miss out on that."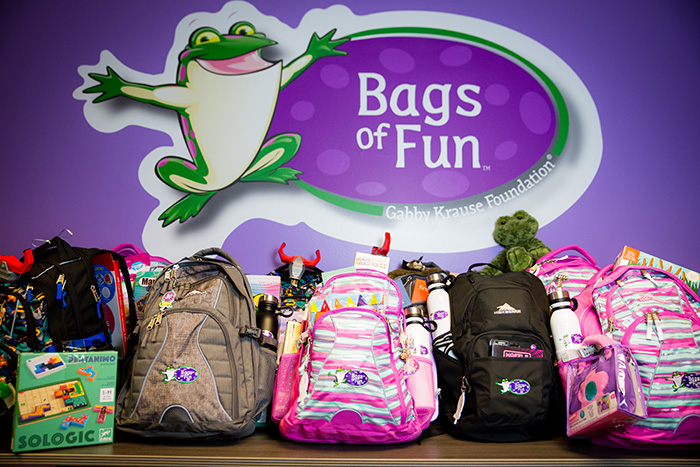 As an expression of the variety and personalization, 14-year-old Adlyn's bag included things like LED string lights she could use to decorate and make it feel more like home and less like a sterile hospital room. "We didn't bring that much stuff with us," Adlyn Even says. "I really liked the tablet and fidgets. I was pretty tired, and my favorite thing was watching videos and the pizza-making game and using the tablet for background noise when I was tired." Adlyn Even had never had surgery or even been to the hospital before her diagnosis. Getting her bag of fun made a huge difference. "It was nice to have the distraction," she says. "I was surprised. I thought being in the hospital would be scary, but it wasn't."
Hundreds of kids and adolescents in similarly scary and unfamiliar situations, are given a bag each year. Working with hospital child-life coordinators to identify eligible kids, Bags of Fun are given to children with life threatening and long-term illnesses including cancer, kidney dialysis, organ transplant, and cardiac and severe GI conditions.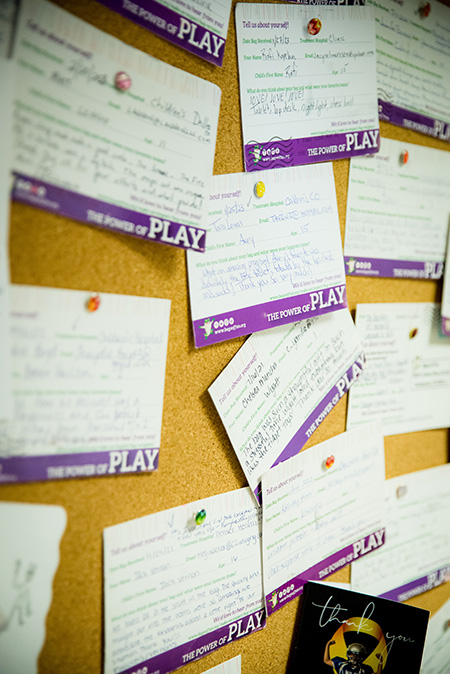 In 2021, Children's Hospital Colorado declared a "state of emergency" for youth mental health. Suicide had become the leading cause of death for children in Colorado, and suicide attempts and other forms of major mental illness resulted in a surge of emergency room visits and hospitalizations across the state. The Gabby Krause Foundation responded by creating a second line of bags to deliver to kids going through a mental health crisis, initially adding 30 bags a month to their delivery roster. They doubled that number after a successful fundraising event in 2022 and are now delivering up to 60 mental health bags each month in addition to the 500 medical bags a year.
Fundraising events are the lifeblood of the organization, generating sixty to seventy-five percent of its annual revenue. In coordination with various supporters and sponsors, The Gabby Krause Foundation puts on some large fundraisers each year with businesses and individuals sponsoring the creation of individual bags. Upcoming events include the 2023 Starbucks Annual Tin Cup Golf Tournament in August. For the past several years, Bags of Fun has been the beneficiary of all proceeds and, with Starbucks matching the event, there's potential to double the funds raised. Wheels of Dreams, sponsored by AvidLifestyle and Colorado AvidGolfer magazines, takes place August 5th this year. The high-end event features classic cars and live music in a cool, laid-back environment. "It's more an adult's evening out-type of event," Krause said, describing how much she's looking forward to their busy summer of fundraising and all the bags they'll be able to create as a result.
The bags cost approximately $200 each for the mental health bags and up to $400 each for the medical bags. It's a lot of money but the impact is priceless, and the contents are high-quality and carefully chosen. "It's a well thought out bag," Anne Even says. "We still use the actual backpack … it's our go-to hospital bag for everyday essentials." For caregivers like Anne Even, the bag represents more than just a good time for her child. "It's a connection to another organization that provides support," she says. "Having your child diagnosed with cancer is not something you ever expect to happen and just to know that there are others out there that care and understand makes a difference for people going through a rough time. It's made our year better."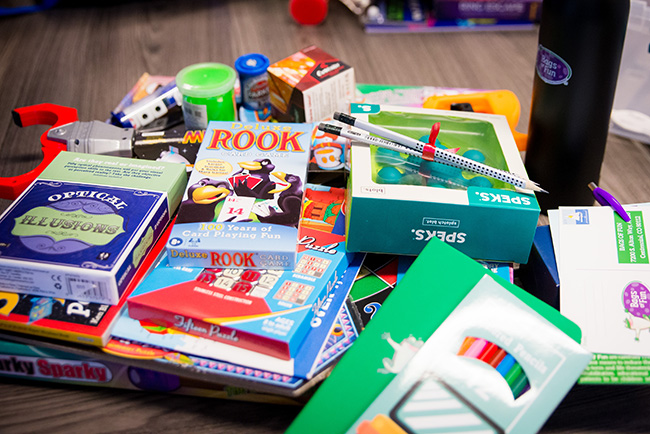 Anne Even and her daughter say Bags of Fun has a positive ripple effect. "When you walk away from experiences like this, you're going to have all the bad memories from the treatment, but you also have positive memories about kindness and people who did things for you. It shifts your perspective about the kind of year you had," Anne Even says. Bags of Fun is more than just a toy-filled backpack to distract kids in hospital; it's a bright light in a dark tunnel, reminding children and the people loving and supporting them that there's more fun coming.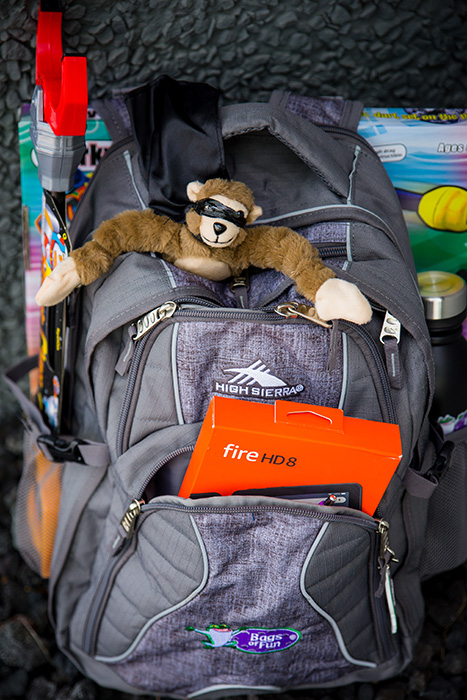 Bags of Fun Colorado
7200 S. Alton Way, A-180
Centennial
720.476.3022