Imagine your summertime and autumn entertaining taking place 100 percent outside—no running back and forth to the kitchen for meal prep and drinks. You spend your "kitchen time" outdoors with your family and guests. You don't miss a minute of the fun and memory-making. Sound too good to be true? It's not when you add a complete outdoor kitchen to your backyard entertaining area. And, of course, any party leads to the group gathering in the kitchen, so why not keep the party outdoors to enjoy the beautiful Colorado weather every minute you can?
In addition to making mealtimes easier—and containing the cleanup to one area—your outdoor kitchen can look and function just as well as the one indoors. Today's appliances and cabinetry options ensure lasting beauty and a second kitchen you'll love. Depending on how you structure your space, Joseph Nguyen, president of Dream Makers Landscape, says when you're able to use the entire outdoor area for entertaining, it might not even feel like you're outdoors.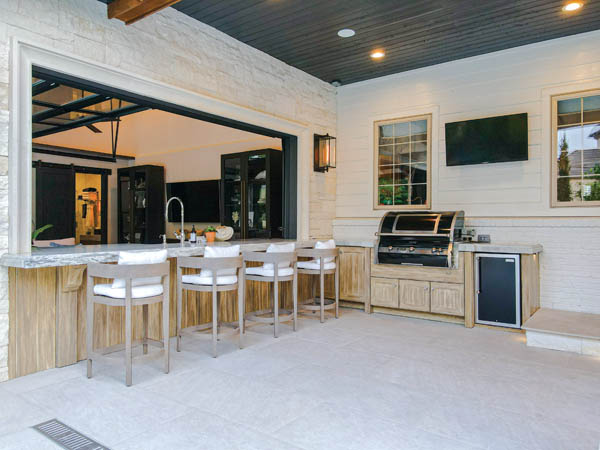 Your kitchen can be open-air or under the cover of a pergola or solid roof. When planning the kitchen layout, think about how you cook indoors and how you want to cook outdoors. "The structure can take on different designs and variations based on the different appliances you choose," Nguyen says. "It's not just about a grill anymore—there are pizza ovens, smokers and Big Green eggs. You can add a sink, refrigerator, ice maker, beverage center—anything you want." It will all contribute to the size and layout of the space, but Nguyen assures: If you can dream it, Dream Makers can build it.
Today's cabinetry is rated for outdoor use, and with granite countertops, everything can tolerate the variety of weather conditions Colorado serves up. This enables you to use the outdoor kitchen fully. Use cabinetry to store pans, serve ware, dishes and more. And just like an indoor kitchen, countertops make excellent seating arrangements in addition to a dining table and chairs.
Whether you're just embarking on a backyard redesign or have some elements in place, Dream Makers can help you design and build a dreamy outdoor kitchen for maximum entertaining. Many of Nguyen's clients have an indoor entertaining area that overflows into an outdoor space. This is the perfect spot to add a kitchen and outdoor living area that leads guests outdoors. Beyond that, you might have a fire feature and a pool and/or spa. "The convenience of walking outside and having everything so close," Nguyen says, "provides value and entertainment. It allows you to bring everything outside."
Dream Makers Landscape
303.840.0505; dreammakerslandscape.com