There's so much to love about winter in Colorado. For most, skiing is the highlight of the season. But for the Bergeon family, solid slopes are just the tip of the mountain-escapades iceberg. Every year, the Lone Tree family rounds up their Midwest and East Coast relatives for a week of adventure in one of the state's oldest areas for seasonal fun and games: Winter Park.
"Lots of people from out of town tend to favor the more well-known ski towns, like Vail, Aspen and Breckenridge," says Annette Bergeon. "But we love Winter Park because the mountain is incredible and there is so much more to do than just ski. So, we bought a condo and made it our official vacation spot back in 2005."
WHY NEW YEAR'S?
"New Year's is the perfect time to get everyone up to the condo because the kids all have that week off school. My extended family is scattered all over the country and has Christmas traditions with their own families, parents and in-laws, which makes gathering for other holidays difficult. We also tend to be big gift givers, so hauling all of those Christmas gifts to Winter Park can be a logistical challenge."
STEERING CLEAR OF THE BEATEN PATH
"Our condo is right up against Mary Jane Mountain, and there's a trailhead that leads to hundreds of miles of fresh powder and beautiful scenery. The Arapaho and Roosevelt National Forests are directly adjacent to the town of Winter Park—it wraps around the east, south and west sides. There are maps available that show the network of trails, but the trails themselves are not always well marked so a GPS tracking system is helpful. Our favorite trails are called Twin Bridges and Blue Sky."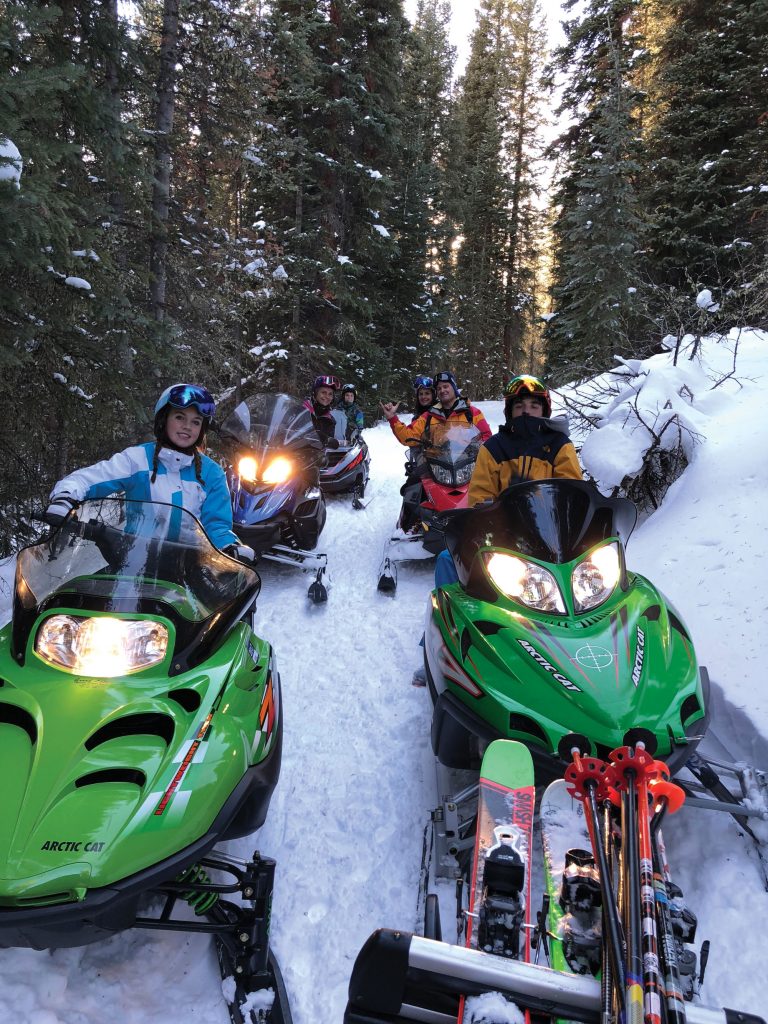 REVVING UP
The Bergeons' favorite activity is all about 40 mph speeds in knee-deep powder: "While the snowmobile tours are great for beginners, you have a guide who has lots of rules to follow. We've accumulated five snowmobiles over the years, so we can just take off into the national forest and go wherever, whenever. We also like to strap our skis to our snowmobiles and ride up to the Pioneer Express lift or Snoasis at Winter Park Resort, so we don't have to deal with crowded shuttle buses and full parking lots." For beginning snowmobilers, Bergeon recommends Grand Adventures for a guided ride.
ABOUT SKIING
"Skiing is, of course, always a must. Since we usually have everyone with us (kids and grandparents included), we focus on things everyone can enjoy, like snowshoeing and cross-country skiing."
THEN, IT'S TIME TO TUBE
"One thing the kids really love is the Historic Fraser Tubing Hill, which is about 10 minutes from Winter Park Resort. It's much bigger than the Coca-Cola Tube Park directly on the ski hill and you definitely get up to faster speeds. We like to wind down around the outdoor fire pit while drinking hot cocoa and boozy adult drinks."