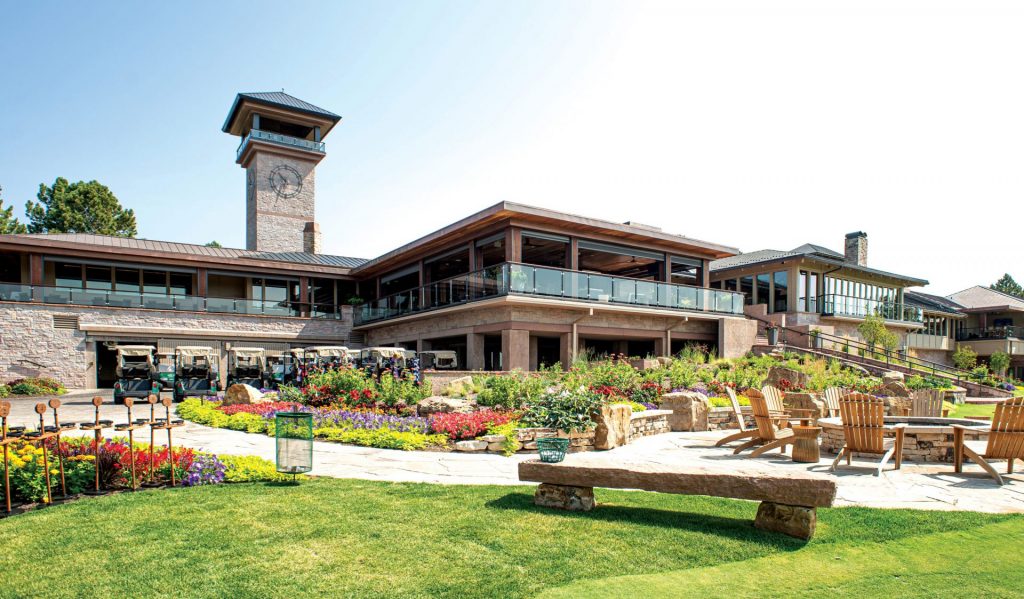 Among the most illustrious golf courses in the world—St Andrews Links' Old Course in Scotland, Augusta National in Georgia and Bandon Dunes Golf Resort on the misty Oregon coast—our own Castle Pines Golf Club ranks. The PGA TOUR-level course has hosted some of the sport's most boldfaced names on its hallowed grounds, including Greg Norman, Phil Mickelson and Jack Nicklaus, who worked with founder Jack Vickers to design the verdant playland. But until recently, one thing was missing: a truly jaw-dropping clubhouse with room enough to sprawl. Now, thanks to a revamp effort largely spearheaded by longtime member Larry Mueller—founder and CEO of lifestyle company Cuvée—the clubhouse has been born anew. "It didn't have those gathering spaces to really socialize and connect with significant others, family and friends," Mueller says, adding that he worked closely on the project with George Solich, president and CEO of FourPoint Energy and the club's president and chairman. "[The clubhouse] was built 35 years ago, so its finishes were dated as well. I saw this building that was designed with all the right lines and architecture, great volume and ceilings, and knew that we could come in and really take advantage of its siting and create socialization areas."
Castle Pines enlisted Oklahoma-based design-build firm Tom Hoch Design, whose noteworthy projects include The Ritz-Carlton, Dove Mountain and Port St. Lucie, Fla.'s PGA Golf Club. Hoch expanded the building from 32,000 square feet to 44,000, including sweeping terraces (ideal for social distancing), a 1,500-square-foot wine cave that can hold some 9,000 bottles, an expanded kitchen for the club's fine dining program, a new spa and wet areas in the locker rooms and an eight-person hot tub that overlooks the 18th hole. "I always kid everybody, if you three-putt 18, you've gotta go to the cold bucket," says General Manager Keith Schneider, referencing the spa's cold plunge pool alternative.
The original clubhouse was designed with nods to Frank Lloyd Wright's Prairie-style architecture by San Antonio firm Ford, Powell and Carson. But with around 350 members, the club that originally hosted 150 when it opened in 1981 was feeling a little squeeze. The interior palette "was a lot of peaches and earth tones before, and we've gone to grays and stone—I would say it went from traditional to transitional," says Schneider of the new interior, where soaring open-beam ceilings have the feel of a storied hunting lodge. "We call it laid-back luxury," says Hoch. "The marching orders for the interior design was a modern vibe that conveyed impeccable style and comfort."
Among some of the other new elements: a horseshoe-shaped bar in the men's locker room with a top hand-hewn from a walnut tree slab; an antiqued wood ceiling in the Founder's Dining Room "finished using the ancient Japanese tradition of preserving wood called 'shou sugi ban,'" says Hoch; and, throughout, paneling made from quarter-sawn oak for a cozy feel.
The entire south end of the clubhouse now has NanaWalls, sleek folding glass walls that are a particularly prescient idea in the COVID-19 age, which can be opened for an airy feel indoors. "We wanted to open it up and bring the outside in," says Schneider. "We have a lot of terraces off of the clubhouse now, and a firepit and putting course attached to the south end that overlooks Pikes Peak and the whole valley. We added a new bar and cigar terrace in the men's locker room. It's just more refreshing to be in there because it's more open."
And that aforementioned wine cave is among the most exquisite in the state, with two tasting tables topped with leathered-finished Bellatrix granite and a 16-person "live edge" walnut table for private dining with embedded radiant heating to cozy up the oenophiles in the 58-degree room (without harming the library of tipples). Meant to rival some of the most stunning wine caves of Napa, "you can look up through the skylight and see the tower at night, just like in Europe," Mueller says.
Indeed: what castle would be complete without a tower? Unlike the previous, smaller tower, this 90-foot-tall version has an elevator, which makes getting a little extra altitude a breeze. A viewing platform with tables overlooking the golf course and a postcard-perfect panorama over the Front Range stuns like a hole in one. "You can see Longs Peak to the north to Pikes Peak in the south, which is about 120 miles," says Schneider. "You can look over the whole mountain range—Devil's Head, Mount Evans. It's really, really pretty. And you can go up there anytime, morning or night. If you're having dinner in the cellar, you can pick a nice champagne or rosé and go up for a little predinner drink." Translation: At this castle in the pines, every member and guest has nothing short of a royal experience.