Luxe living
Hotel Jerome
Walking into the historic Hotel Jerome is like stepping into a Ralph Lauren ad, oozing with layers of nostalgic style with a contemporary edge. The heritage of this hotel shines in every detail from the avant-garde cocktails at Bad Harriet to the original Chinoiserie Chippendale till, signed by every bartender who's ever worked there. It's in the classic design and dishes of Prospect, as well as the speakeasy-style Felix Roasting Co. with its pink slipper chairs, blue velvet banquettes and proprietary coffee blends, there's something around every corner at this one-of-a-kind gem. Plus its suites offer floor-to-ceiling windows with views of Aspen Mountain and the local street scenes—it doesn't get any better than this.
970.920.1000; hoteljerome.com
The Little Nell
As the saying goes, The Little Nell is the "Aspen of Aspen." And although that might sound boastful, it truly does set the stage for an epic Aspen adventure. Nestled next to Aspen Mountain and at the top of the historic town, this well-appointed establishment is an art gallery, showcasing a modern aesthetic throughout the hotel. From the bedding to the spa, the dining to the entertainment, The Little Nell is the definition of Aspen culture. Do not miss lunch followed by après (even though ski season is over, it's still a thing) at Ajax Tavern. The truffle fries and champagne make for the ultimate extravagance while taking in top-notch people-watching.
970.920.4600; thelittlenell.com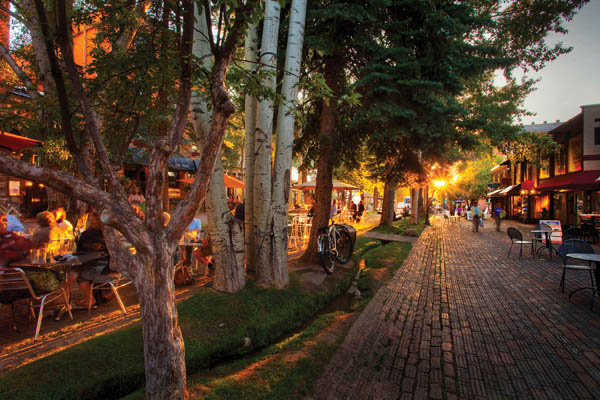 Posh dining
Chica
Inside the Residences at The Little Nell is newcomer Chica. Serving up Latin American cuisine derived from celebrity chef, Lorena Gracia, the menu is bursting with vibrant flavors that revel in Latin culture. The Peruvian red snapper ceviche, lobster "croqueta," baby back ribs "al pastor" and Mexican hot chocolate (complete with Guajillo Chili Chocolate) will knock your socks off.
970.900.6780; chicarestaurant.com/aspen
Clark's Aspen
Clark's Aspen is the 2nd location of MML Hospitality's popular neighborhood oyster bar set in the historic and beloved former Little Annie's location. The goal was to uphold much of the charm of the previous tenant, including fully restoring its mahogany bar, adding a bustling open kitchen to offer an alpine version of Clark's dockside aesthetic but with a cozy Colorado fireplace of course. Serving freshly baked sourdough, overflowing lobster rolls, delicious burgers, New England clam chowda, cioppino and of course, oysters galore.
970.710.2546; clarksaspen.com
Matsuhisa
If you are looking for a restaurant with a sexy vibe (think date night or girls' night out), Matsuhisa, the namesake restaurant of chef Nobu Matsuhisa, is the place to go for haute Japanese fare, sushi and cocktails turned out in a bustling basement setting. Have the server choose curated dishes for the table for the freshest and most authentic experience.
970.544.6628; matsuhisarestaurants.com/aspen
Steakhouse No. 316
For a true traditional steakhouse that's as swanky as it is delicious, Steakhouse No. 316 is it. The building was once a brothel, and that sultry vibe is alive today with red velvet tufted booths, crisp white tablecloths, gold gilded mirrors and barely-there mood lighting. Favorite dishes include the lobster thermidor, Colorado rack of lamb and the cowboy ribeye with blue cheese bone marrow butter.
970.920.1893; steakhouse316.com
French Alpine Bistro
The local gem that is the French Alpine Bistro welcomes guests with candlelit tables that transport you to France. Upon entering you're greeted by rustic decor, cozy sheepskin draped throughout the space and antiques abound. Enjoy the classic Moules-Marinière with a crisp glass of Sancerre and you're well on your way to parler français.
970.925.1566; frenchalpinebistro.com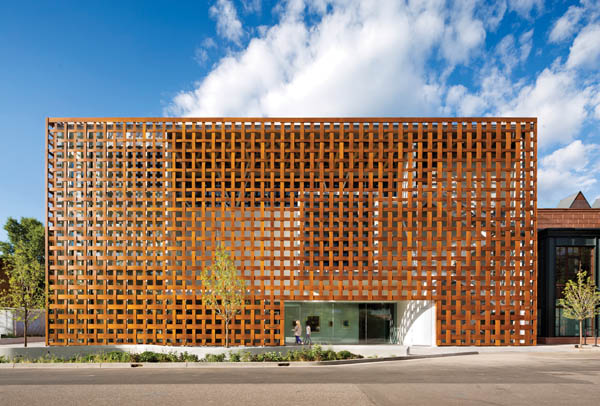 What to do
Aspen Art Museum
This non-collecting institution presents the newest, most important evolutions in international contemporary art. The widely respected and innovative architect, Shigeru Ban, approached the design of the AAM with the goal of creating a unified relationship between the structure and its surroundings. The harmony between Aspen's existing architecture and the surrounding beauty of the natural landscape is on full display from every angle of this building. Additionally, his devotion to humanitarian efforts in the wake of devastating natural and man-made disasters also plays a part in his works. For example, he designed housing solutions for residents of New Orleans after Hurricane Katrina and temporary housing for victims of the 2015 earthquake in Nepal, the 2013 typhoon in the Philippines, as well as the 2011 earthquake and tsunami in Japan. Shigeru Ban Architects also developed a cardboard cathedral for the city of Christchurch following the February 2011 earthquake in New Zealand and collaborated with professors and students to build 100 shelters made of paper tubes and local materials for victims of the Port-au-Prince earthquake in January 2010.
970.925.8050; aspenartmuseum.org
Biking
With incredible mountain biking, road biking and endless miles of paths, there's no better place to ride off into the sunset than Aspen. In fact, in 2020, the entire Roaring Fork Valley was deemed a Gold-Level Ride Center by the International Mountain Bike Association, which honors the world's best destinations for mountain bikers of all levels. Get your adrenaline pumping on some on-mountain downhill trails at Snowmass Bike Park or just cruise around the picturesque valley and enjoy the sights. You can't go wrong here, but the most iconic ride is to Maroon Bells. The route climbs 1,300 feet over nearly seven miles from Highlands to Maroon Lake. The 16.2-mile round-trip route passes through countless aspen groves and underneath the watchful gaze of Pyramid Peak before rounding the bend for a splendid view of Maroon Bells, and eventually Maroon Lake.
The Aspen Institute
Aspen made a name for itself as a cultural hub in the Rocky Mountains centered around the "mind, body, spirit" ethos established at The Aspen Institute. It has earned a reputation for gathering diverse, nonpartisan leaders, creatives, scholars and community members to address some of the world's most complex problems. The goal of these convenings is to provoke impact and further improve action in the global community. The 40-acre campus, with open-air venues, celebrates the natural landscape and interactive programming. This spring and summer they will be hosting events such as The Aspen Executive Seminar, Family Prosperity Innovation Community, Summer Words Writers Conference and Literary Festival, Seminar for Mid-America Foundation CEOs and the Aspen Global Health Ideas Conference.
970.925.7010; aspenmeadows.com/aspen-institute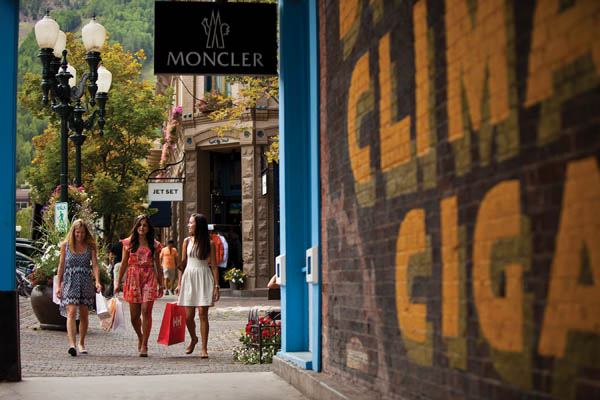 A-List shopping – fashion notes by Hailee Lucchesi
A spring getaway in Aspen calls for cool, collected and chic. The genesis to achieving an understated, elevated look at 8,000 feet begins and ends with layering. Start with a classic fur from the historic and quintessential, Pitkin County Dry Goods. This clothier has been outfitting Aspen since 1969 with contemporary—yet classic—designs for men and women.
970.925.1681; pitkincountydrygoods.com
Souchi
Layer and luxe up your coat with a hand-loomed cashmere dress from Souchi, a local designer in Basalt who's been creating luxury knitwear with her own two hands since 1997.
970.925.2580; souchi.com
Wyld Blue
For daytime casual, dress down with a crisp tee and leather pants from Australia-based, East Coast-born, Wyld Blue.
970.710.7486; wyldblue.store
Miron Crosby
Grab a pair of handmade Cream and Blue Floral Chinoiserie Boots from sister-owned bespoke boot boutique, Miron Crosby. These gals have seamlessly blended the authenticity of West Texas with the fashionable creativity of New York in each pair of boots.
970.452.9611; mironcrosby.com
Marcus
A Triangles Crossbody Louis Vuitton that has been artistically enhanced by hand, exclusively from Marcus, will serve as your everyday go-to. Classically chic and effortlessly cool.
970.429.4186; shopmarcus.com
Kemo Sabe
And last but not least, you can't weekend in the Rockies without a fantastic felt hat. Luckily for you, the iconic and flagship location of Kemo Sabe is at your service with a plethora of beautiful hats including the distressed classic, Plains Hat.
970.925.7878; kemosabe.com