Photos by Meagan Larsen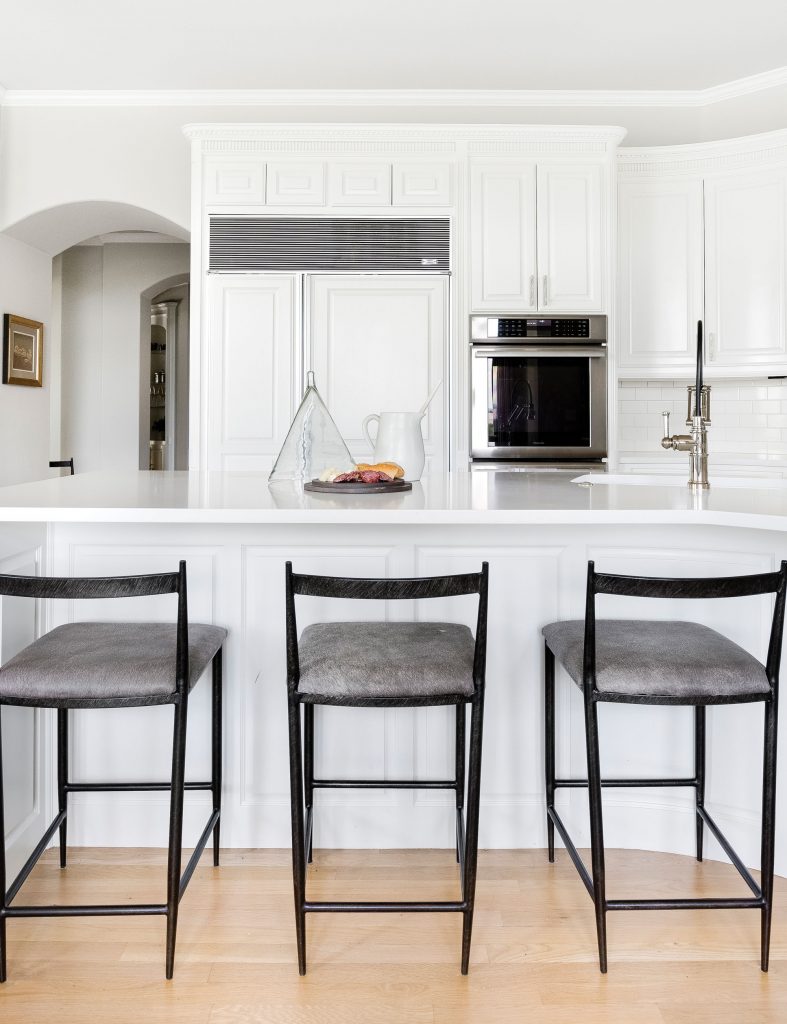 Dark. Dated. Depressing. These were the words homeowners Amy and Richard used to describe their 6,500-square-foot Castle Pines home. "We liked the house's reclaimed brick exterior, layout, high ceilings and custom finishes (like beautiful cabinetry and crown molding) that we didn't see in many other homes," says Amy. It was the '90s-style design inside that was the problem.
They lived with the setup for five years. But as of 2017, the family of five became officially fed up with all things outdated. "We needed an update," Amy says. "We wanted to change the interior of the home to a lighter, brighter and cleaner vibe to make it more current, as well as create something functional and comfortable for our kids and dogs."
Amy and Richard called on Ashley Campbell of Ashley Campbell Interior Design to bring their home into the modern age. Together, they orchestrated complete overhauls of the master bedroom and bathroom, kitchen, two living spaces and each of the kids' rooms. Hello, home sweet home.
GOING LIGHT AND BRIGHT
Campbell largely focused on one detail for a major impact: Choosing light floor, wall and trim colors, and light furnishings. "I am a big believer in using a neutral paint color throughout the main spaces of a home," she says. Her weapon of choice: Revere Pewter, a light gray by Benjamin Moore, that would also support accent colors.
One of the homeowners' favorite elements for lightening up the place was Campbell's choices in light fixtures. "The fixtures make such a difference and really dress things up," says Amy. Adds Campbell: "Decorative lights can often be the jewelry of the room."
KIDDING AROUND
Amy and Richard have two daughters and a son. Before the redesign, the two girls were sharing a room so no one would have to take the basement bedroom. "No one wanted to be down there alone," says Amy.
So, Campbell reconfigured the home office into a bedroom so each child could have their own space above ground—all of which the kids, of course, had a hand in designing. Amy "really wanted their personalities to be reflected in their rooms," says Campbell. The fabrics and furniture, however, stayed durable and practical.
SPA TIME
Perhaps the biggest update took place in the master bathroom. "We brought the bathroom down to the studs," recalls Campbell. Where there used to be clunky and outdated features, plumbing issues and insufficient storage, there is now a free-standing tub, vanities with custom cabinetry from Denver-based Precision Homes of Colorado, a reconfigured shower and mended plumbing. "It's serene, tranquil and spa-like," says Campbell.
MAKING A LIVING SPACE
The goal was to "casualize" the two living spaces. The lower-level rec room was opened up for family hangouts by replacing a kidney bean-shaped bar with a built-in custom cabinet and wet bar from Precision Homes. Now, the room has storage for snacks, a sectional for movies and a game table. The main living space upstairs was rearranged to be more conducive to entertaining guests.
Campbell chose oranges and pinks as the color palette for BEDROOM TWO for the middle daughter, who was looking for a bohemian aesthetic. Campbell added fun accents that matched in color, but not pattern, to get the right vibe.

The youngest in the family, Amy and Richard's son, calls BEDROOM THREE, the converted office, home. The room was minimally reconfigured, with just the location of the door moved and a closet added.

BEDROOM ONE, belonging to the eldest, 13-year-old daughter, was made "whimsically sophisticated" with deep purple and gray hues, new carpet, lighting, window treatments, furnishings, bedding and a built-in window seat.

The KIDS' BATHROOMS got a minor refresh, with each now featuring an updated mirror, lights, a repainted vanity and pops of color that tie in to their bedrooms.

The large window-pane-like shower tile in the MASTER BATHROOM, Campbell says, serves as an unexpected focal point.

The MAIN LIVING ROOM got a new layout and new furniture. Campbell chose two different sofas for the space to "give the family more design flexibility, should the time come for them to make a move." For now, high ceilings, great mountain views, connection to a deck and Amy's vote as the best room in the house make it a prime spot for guests.

The LOWER-LEVEL REC ROOM went from "a catch-all for toys and outdated furnishings to a main entertaining space the whole family can enjoy," says Campbell. The custom cabinet, now the room's main focal point, is accessorized with metal-mesh door inserts and a chevron marble backsplash.
GET PLANNING
Ashley Campbell Interior Design
303.996.6195