By Mark Samuelson
Discover rivers and lakes around home that enrich a MILE-HIGH LIFESTYLE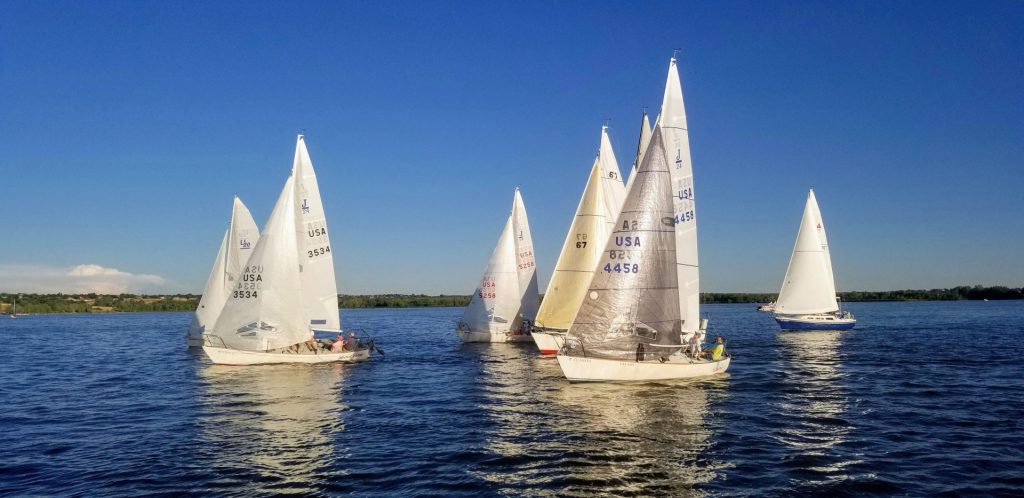 How far is it from metro Denver to a serious body of water? Perhaps one with big waves and miles of sand or fresh lobster and saltwater taffy? The Pacific shore at San Diego is 830 miles west, while Cape Cod is 1,800 miles east. Minnesota's Land of Ten Thousand Lakes is just 650 miles northeast.

But water is part of the image that lures Coloradans to their Mile High surroundings now—not just in lakeside settings up in the Rockies, but right in the city and its suburbs.

"Coming out here, there was the pain of leaving the ocean," recalls Steve Watson of Parker, who moved his family east from California decades ago. "I fell in love with the lakes here; it's given me a connection to Colorado."

It wasn't always this way. When explorers Zebulon Pike and Stephen Long, who each left his name on 14,000-foot peaks near Denver, reported on the vast expanse along the Rockies, they both gave a bleak account of water resources—giving readers back east the image of a Sahara-like landscape. But thanks to the massive engineering projects of the last century, tunnels beneath the Continental Divide now carry water eastward from the Colorado River drainage, creating many of the popular scenic reservoirs of today.
Aurora Reservoir
That's how the 31,000-acre-foot Aurora Reservoir, which opened in 1989 and drew some 686,000 visitors last year, feeds its sailing waters and swimming beach. Much of the inflow passes from Lake Dillon under the divide by way of the 23-mile-long Roberts Tunnel built in 1962, and from there into the South Platte River, to Strontia Springs Reservoir in Waterton Canyon, and by pipe under the Denver Tech Center to the lake near E-470 and Quincy Avenue.
"We're a regional resource for water sports," says Brian Green, the City of Aurora's acting manager of open space and natural resources, adding that the reservoir offers one of nicest sand beaches away from any coast, with a designated swim area staffed during the season by a lifeguard.
Meanwhile, that reservoir provides drinking water for Aurora residents. "So, it's very clean and clear, and for that reason, we don't allow regular motorized watercraft with fuel-burning motors," says Green. Aurora Reservoir—like a growing number of water recreation sites serving metro Denver—caters exclusively to popular sports that are naturally powered and non-polluting, like sailing, stand-up paddleboarding, kayaking, windsurfing and kiteboarding.
"We're a huge destination for kayaks and paddleboards," Green adds, noting that devotees like that they're not competing on the water with powerboats and jet skis. "It's a great place for windsurfers. You get a lot of predictable wind."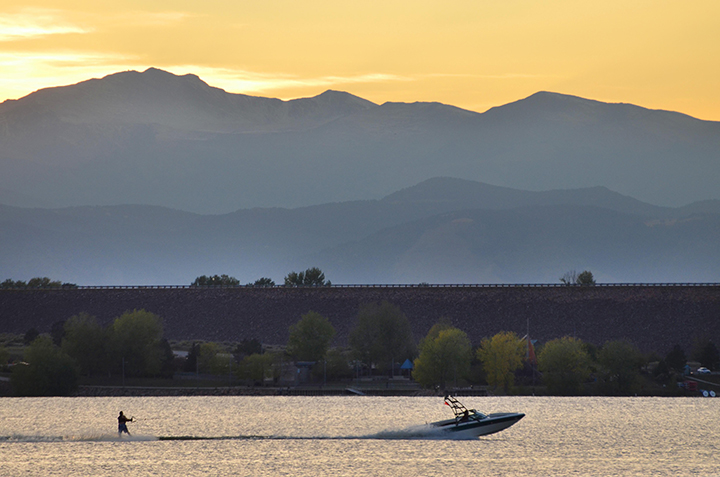 Cherry Creek State Park
Wind-powered craft first caught the fancy of Jeff Lampe, "commodore" of the Denver
Sailing Association, in 2015 in Florida, where he was recovering from a lower leg amputation following a motorcycle accident. With a new leg, Lampe learned to sail and was back skiing in Colorado within months after the surgery. Later, when he made the Centennial State his home, he was relieved to be able to continue to enjoy sailing.
Now Lampe and his shipmates ply the waters of several metro lakes and make their home base at Cherry Creek State Park, where the marina opens onto an 850-acre,
3-mile-long lake.
"It's a large part of life for me and probably takes more time than my girlfriend would like," Lampe says. He and other members sail all over the state and have sailed competitively on the coasts. Still, they enjoy the nice clubhouse at Cherry Creek, which is close to the park's privately operated Lake House, with a bar, dining and concerts overlooking the marina. "We want to grow the sport, so people know what sailing is about," Lampe adds (Learn more at denversailing.org)
Aside from requiring specialized skills, Lampe notes that sailing puts a particular focus on the megadrought across the west that has affected local water levels. Since sailboats have a four- or five-foot-deep keel below the craft that gives the ability to navigate into the wind, and they require deeper water than powerboats to launch—or a crane to hoist the vessel. Even a three-foot drop in the water level causes problems, something the association is working on with the state park and the Army Corps of Engineers.
Although drought is the risk today, Denver has suffered severe floods, including one in 1844 before the city was founded, that reportedly filled the South Platte Valley from bluff to bluff. In 1948, the U.S. Army Corps of Engineers began building the dam across Cherry Creek, 11 miles upstream from
downtown, to mitigate the peril (the park opened in 1959); then followed up by building Chatfield Dam across the South Platte, following a 1965 flood on the river that wiped out hundreds of homes and businesses.
Chatfield State Park
Like Aurora Reservoir, both Cherry Creek and Chatfield (Chatfield State Park opened in 1975) have swimming beaches and launch areas for sailcraft, but both also allow jet skis and powerboats—creating a huge attraction, according to Colorado State Parks public information officer Kara Van Hoose.
"They're packed all the time, and we want those spaces to be available for generations," she says. That requires good cooperation from boat owners, starting with a "boat ed" safety course. "Both for people who have lived in Colorado or from out of state, it's easy to forget about getting a license," Van Hoose notes. Boaters must also clean their crafts to ward off invasive aquatic nuisance species—like New Zealand mud snails—that can stow away. Captains and crew need to wear life jackets (as with kayaks, canoes, SUPs and smaller sailcraft, they're available for rent) and need to keep an eye on the weather.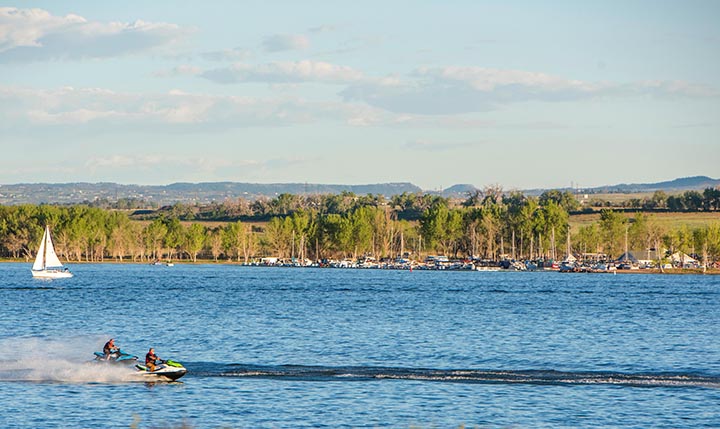 Soda Lakes
Meanwhile, residents who push west toward the foothills can find some rarified settings ready and waiting for watersports, including the Soda Lakes, part of the City of Lakewood's Bear Creek Lake Park and State Park, off Morrison Road just east of C-470.
"We reach capacity every weekend at the park; people picnic and make a day of it," city parks
manager Jim Haselgren says, noting that Soda Lake has a concession stand and rentals. In addition, there's a ranger staff devoted to ensuring that paddlers, swimmers and users of non-powered boats are safe and well-educated on the waters. There's a roped-off swim beach, but nearby on Little Soda Lake, a separate concessionaire offers rented powerboats and waterskiing. Further east, serene Bear Creek Lake is open to anglers and allows smaller boats with trolling motors up to 10 horsepower.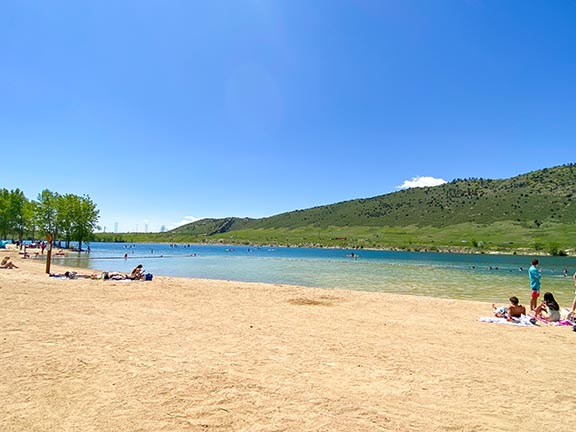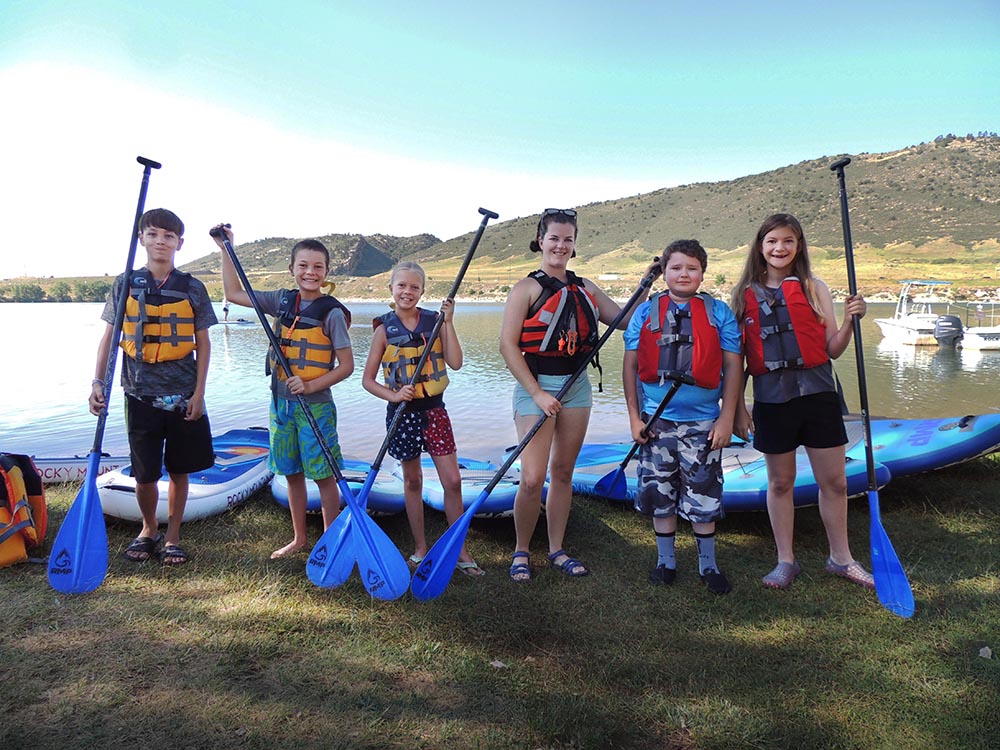 Rueter-Hess Reservoir
All three reservoirs serving the south metro area are a lure for residents of places like Parker, Lone Tree, Castle Rock and Castle Pines. But those towns have an additional site on the horizon that could become an even closer attraction. Rueter-Hess Reservoir, a pump-storage lake for drinking water created by Parker Water in 2012, is highly visible now east of I-25 at Castle Pines Parkway. This spring, a planning commission involving the four Douglas County entities is exploring what it could offer recreation-wise as part of an intergovernmental agreement.
Among the possibilities are paddleboarding, canoeing, kayaking (some events have already been held) and other non-powered boating. Also fishing. "Fishing is very desirable," planners said at the meeting, noting that water quality will always be a primary focus. With a 1,170-acre surface and a depth of more than 180 feet in some places, Rueter Hess could store 75,000 acre-feet—by far the largest volume reservoir on the Front Range. An agreement could be in place as soon as this year, and commissioners are anxious to create ways for access.
South Platte through the Pike National Forest
And if you're looking for a wilder, more wide-open water experience that's less than an hour from home, head to the South Platte River in the Pike National Forest, just over the hill from Sedalia, via Highway 67.
With four campgrounds and a ton of day-use areas, the South Fork South Platte winds for 15 miles through scenic forest and rocky dales, where fly-fishers compete with rafts and float tubes. (Several miles are Gold Medal trout waters restricted to flies and lures only, with any caught fish less than 16 inches released back into the water.) Ranger Donna Maxon with the South Platte Ranger District asks rafters to be considerate of fly-fishers and cautions about parking in non-designated areas.
"The national forest isn't like a national park," Maxon says, adding that only a small team of rangers patrols the area. Trash must be packed out, including dog-poop bags. "And be mindful of the conditions," she warns. "They can change very rapidly."