By Mark Samuelson
Some Colorado towns are building on a nationwide living trend for families that want a CLOSER RELATIONSHIP WITH THEIR FOOD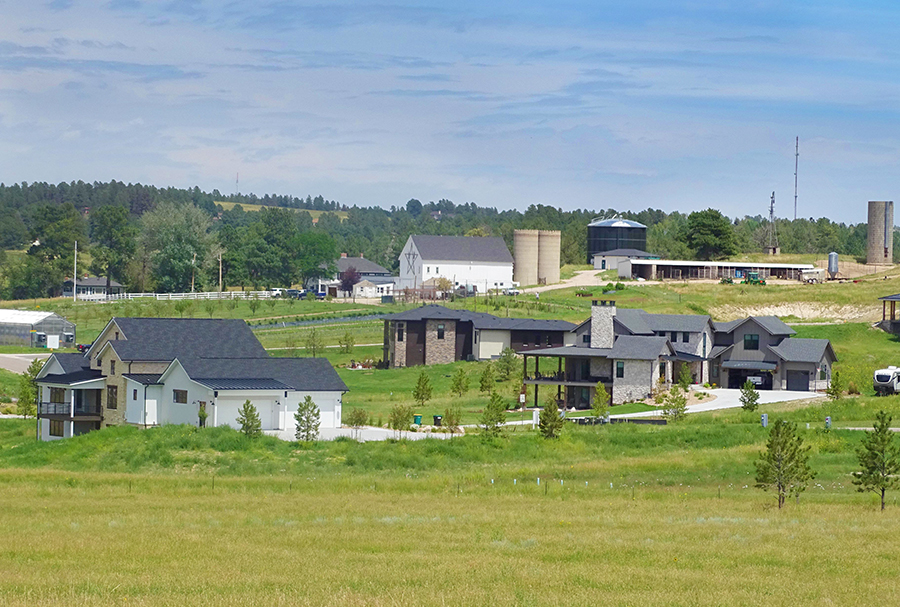 In a year when real estate agents say homebuyers are returning to urban areas like Highlands and Wash Park, there's a different trend taking hold in towns like Parker, Elizabeth and Kiowa, where a growing number of families are reaching for tighter relationships with what they eat, which means a decidedly
un-urban landscape.
Finding an (Agri) Community
Ken and Mary Monson of Houston knew they wanted to retire to Colorado, although they had little idea of what that would look like other than wanting land where Ken could build a woodshop. Now the pair are on the farm committee in their new agrihood, Fox Hill, near Franktown.
"It's near the city, but it's a farm, and you don't have to be the farmer," Mary Monson says as she and Ken showed the historic farmhouse and barn that are optional Fox Hill amenities, on a hill planted with onion, garlic, beans, cucumber, leeks, eggplant, peppers, zucchini and salad greens, along with a fruit orchard.
The community, like a few others in Colorado and many cropping up around the U.S., offers residents a deeper connection to place. Fox Hill preserved the legacy of the original homestead with a 1912 Charleston−style farmhouse, barn and silos, among the acres of building sites along paths and dotted with picnic spots. Homebuilders use sustainable building practices including solar and geothermal heating and cooling systems. Lot sizes range from 1.5 to 4.4 acres, so homeowners can have their
own acreage.
Mary grew up in Missouri, where her dad farmed a thousand acres. Now, the couple likes the agrarian surroundings (their custom home looks directly across at the farm), but they don't have to do the planting and harvesting. Instead, they receive a cooler of produce every two weeks (including fresh flowers) and select beef and pork cuts from stock raised at Fox Hill or on a nearby pasture.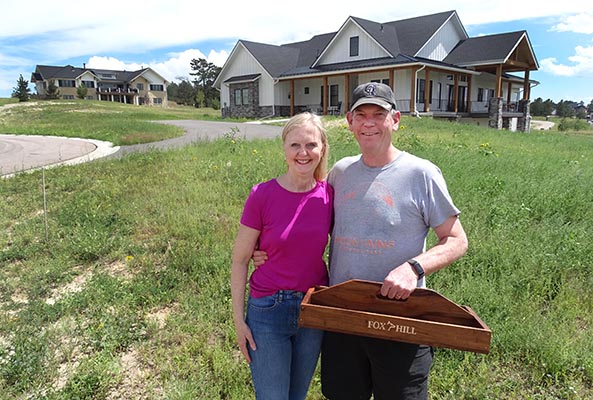 Photo By Mark Samuelson. Ken and Mary Monson, from Houston, discovered Fox Hill, where they've built a custom home with an outbuilding for a woodshop. An early project for Ken was a chestnut strawberry box to carry produce that residents receive.
Paige McLaughlin, who markets Fox Hill's acreage sites, says the community now has 17 final site packages, yielding custom homes from $1.799 million. She says some homeowners are retirees like the Monsons—but a surprising number are younger, with kids with whom they can share the agrihood experience.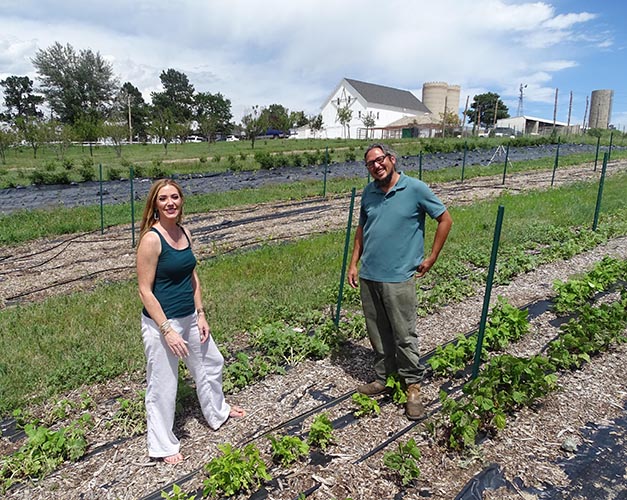 Photos By Mark Samuelson
Going It Alone
Teegan and Chad Braun and their four kids are at the heart of a booming agrihood movement in Elbert County, albeit outside of a planned agri-community. Their three-acre homestead in Elizabeth is a showplace for how to live sustainably, as well as how you might get your kids off their iPhones and into new relationships with their surroundings.
That was just a vision two years ago when the Brauns were remodeling their Castle Rock house, but on a lark, toured a 1975 for-sale home on three acres 15 miles east. This was in the pandemic market when homes—any homes—disappeared the day that they were listed, with many showings and multiple offers.
One look at the place, and they were smitten. "Would you pull it off the market for us?" they asked the sellers. Amazingly, the couple said yes, with the wife noting that she had been following Teegan's Instagram posts on healthy living.
Now the six Brauns are living with eight turkeys, four pigs, six goats (plus two newly arrived kids), 30 "layer" chickens and another 22 "meat birds" that will be heading to the butcher soon.
Meanwhile, Chad and Teegan have a real estate practice around farm living and are spending their spare time writing how-tos for clients so they can homestead on their new properties. With social networking as its driving force, that movement is just one of the ways families find their way into agrihood-style living east of Parker.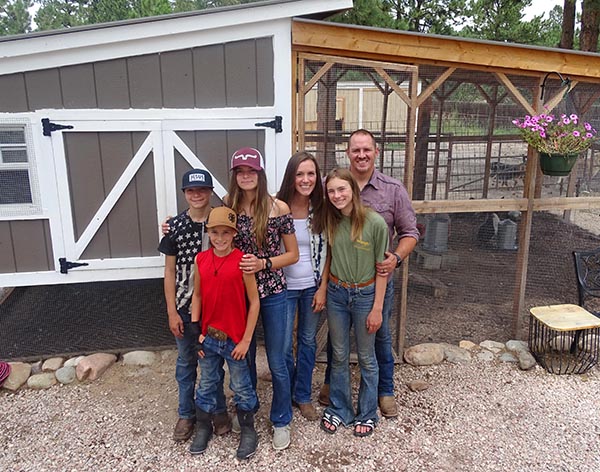 Left: Photo by Mark Samuelson, Right: Photo by Meggan Winegar
"We want to hone life skills for our kids," Teegan says. Kids Jayden, Noah, Cameron and Liam say they loved the idea of the farm move right from the moment their parents floated it.
Teegan says their agrihood information has spread like wildfire via social media—and contacts who see the farm want the same. Moving the concept along are trends toward multigenerational living (her mom has an apartment out back) and "compound living," where friends gather to buy a large parcel and establish individual homesteads.
Despite a slower market, land opportunities are tighter now, Teegan says. She sees house-on-land situations currently priced from $750,000, with raw land considerably less—such as Serenity at Wolf Creek near Kiowa, where you'll find
35 acres from $210,000.