With the Winter Paralympics coming up, we sat down with Kim Easton, CEO of The National Sports Center for the Disabled to talk about the impact this Denver organization is making.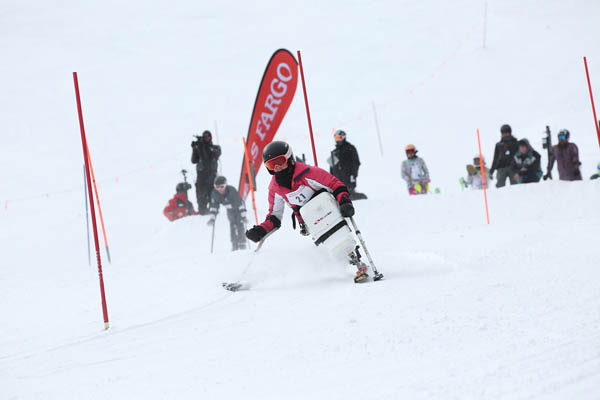 Can you tell me about the National Sports Center for the Disabled?
The National Sports Center for the Disabled is a 52-year-old nonprofit organization and is a leading provider of adaptive outdoor recreation experiences committed to helping individuals with disabilities, their caregivers and the broader community rethink ability. Through the power of adaptive innovation, recreation and Colorado's great outdoors, we are transforming lives, families and communities and creating a world that celebrates each person's abilities. Our exhilarating adaptive outdoor experiences help participants make the very most of their passion, their talents and their aspirations. Our participants discover a renewed sense of confidence, reignite the pure joy of play, and find motivation to try new things, meet new people and believe in their own abilities. We offer industry-leading adaptive equipment, renowned coaches, highly trained instructors and volunteers and unmatched mountain terrain and metro programs, we change the perceptions of athletes of all levels and help them, and the world, #RethinkAbility.
With the Winter Paralympics coming up in Beijing starting March 4, can you tell us about the NSCD's competitive winter program?
We're excited for the upcoming Beijing Winter Paralympics scheduled for March 4 – 13, 2022. The NSCD has been training and preparing Paralympic athletes who want to compete in the Winter Paralympics for many years and we have sent hundreds of athletes to the Paralympic games. This year we have nine athletes named to the U.S. Winter Paralympic team and an additional 10 athletes from New Zealand, Chili, Japan, Israel and Great Britain representing their respective countries. Erik Petersen is the Director of our Alpine, Nordic/Biathlon & Snowboard Competition Center and he has trained more than 300 athletes in his career at the NSCD. He is no stranger to the alpine industry.
While you do have a great competitive program, can you share details about your recreation program?
In addition to NSCD's competitive program, we have an extensive recreation program offering more than 20 adaptive winter and summer sports in the mountains and across the front range. Each year we provide thousands of lessons to our participants at Winter Park Resort, Devil's Thumb Ranch, YMCA's Snow Mountain Ranch and of course across the Denver-metro area.
How can the public get involved?
We are always in need of volunteers. If you have a love of sports, we encourage you to check out more details about volunteer opportunities. At the NSCD we believe every person has unique, incredible, life-changing abilities. For more than 50 years, our volunteers and our athletes have shared the love of the great outdoors, the power of play and the thrill of trying something new. From the joyful screams going over white-water rapids to the sounds of laughter echoing from the ski lifts, our volunteers say that every moment they spend with our participants changes their views about what's possible and makes their lives richer.
The driving force behind our world-renowned adaptive experiences is our team of more than 1,400 hands-on volunteers who dedicate over 40,000 hours annually to helping participants ski, snowboard, kayak, rock climb, learn new sport skills and more. Along the way, our volunteers are helping athletes redefine what their future can look like, rediscover a zest for life, connect with others and improve their social, mental and physical well-being.
Our volunteers receive extensive training in whatever area they choose to volunteer, so you'll be well prepared, confident and excited to share your passion for life with the new friends you make at the NSCD. Learn more about volunteer opportunities at nscd.org.
What do you like most about your job?
The thing I love about my job is that I have the opportunity to change lives every day. At the NSCD we believe that everyone is able and anything is possible and this core credo applies to all aspects of what we do and all members of the NSCD family. I was a ski instructor many years ago and enjoy all the activities and experiences that the great Colorado outdoors has to offer. I have also been in nonprofit leadership for over 20 years. Getting to share my passion and joy for the outdoors along with my leadership purpose of making a positive difference in the world by taking action, helping others attain their unrealized potential and pushing the status quo through innovation is really the best win/win I could hope for in my life. I am grateful and feel privileged every day to get to do this amazing work.
Where do you see the NSCD in the next five, ten years?
As you can imagine, the COVID-19 pandemic the past couple of years has created many challenges, but we have managed to safely keep our programs running and our participants connected to the outdoor adventures they love to do. Our strategic plan goals for the next five years include three key areas: transforming lives, transforming the adaptive outdoor recreation industry and transforming the NSCD. We will continue to focus on expanding access to adapted programs and experiences by delivering high quality programs and a seamless customer experience. To accomplish this we will research and pilot potential new programs and experiences based on what our participants want to do and where they want to do it. Intentional program outreach and creation in typically underserved areas is also a priority. Additionally we will focus on persistent organizational growth and maintaining a healthy organization, increasing marketing with brand clarity and improving financial stability through a strategic fundraising strategy and investing in program growth.
What are some of your key fundraisers for the NSCD?
We just wrapped up our RethinkAbility Ski Challenge, a vertical ski challenge and our 46th Annual Wells Fargo Ski Cup, both held at Winter Park Resort. Coming up we will be hosting our Exceeding Boundaries event on May 18 at Empower Stadium at Mile High. The Exceeding Boundaries event raises awareness for critical need for access for people living with disabilities to adaptive outdoor recreation while honoring those that help make a difference in our sports community. On Aug. 11 we will host our annual Corks & Forks Event at Mile High Station where guests can enjoy an evening of fine wine, spirits and delicious cuisine prepared by Denver-area renowned chefs, plus live music and a silent auction in an incredible atmosphere.
For more, head to nscd.org