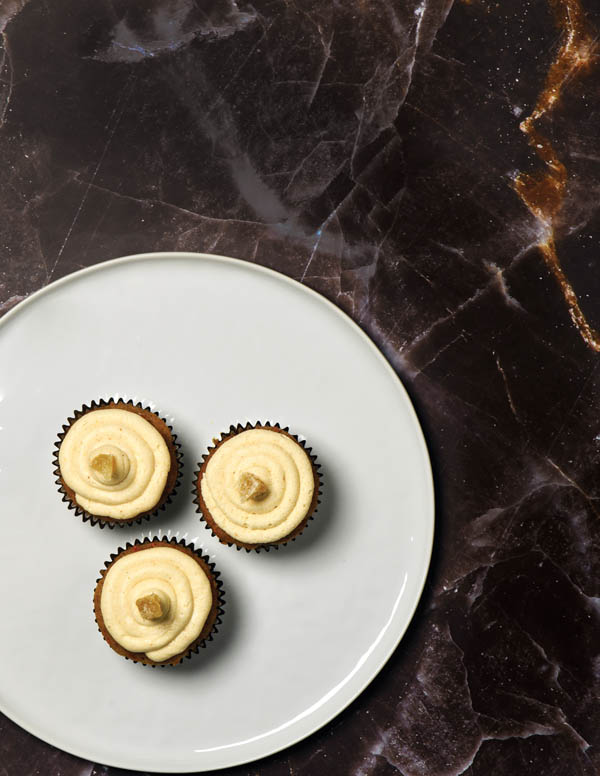 Although it's missing the pumpkin, carrot cake might be the unofficial dessert of fall. There's just something warm and comforting about this classic dessert that goes perfectly with falling leaves. And the seasoning experts at Savory Spice (savoryspice.com) agree. They created a recipe with Chinese Five Spice for a cake that is something truly special. The earthy undertones of clove, ginger, cinnamon, fennel and star anise bring out the sweetness of the carrots and the pineapple making this dessert a standout for fall occasions. We particularly like it paired with our afternoon tea or fireside cocktail.
Chinese Five Spice Carrot Cupcakes
Makes 12 to 18 cupcakes

Ingredients:
For the cupcakes:
1 ½ c. all-purpose flour
1 ½ tsp. baking powder
½ tsp. baking soda
¾ tsp. Mayan Sea Salt
2 tsp. Chinese Five Spice
½ c. vegetable oil
¼ c. crushed pineapple, drained
3 eggs
1 c. granulated sugar
2 tsp. Pure Madagascar Vanilla Extract
2 c. shredded carrots
For the frosting:
8 oz. cream cheese, softened
½ c. unsalted butter, softened
2 tsp. Pure Madagascar Vanilla Extract
2 tsp. Ground Ginger
3 c. powdered sugar
Cubed Crystallized Ginger, to garnish
Method:
For the cupcakes: Preheat the oven to 350 degrees. Line a 12-cup muffin pan with paper cupcake liners. In a large bowl, whisk together flour, baking powder, baking soda, salt, and Chinese Five Spice. In another large bowl, whisk together vegetable oil, crushed pineapple, eggs, sugar, vanilla, and carrots. Then slowly add the flour mixture to the wet ingredients, beating with an electric mixer until just combined, about two minutes. Fill the muffin cups with batter about three-quarters full. Bake until cupcakes are set, about 20 to 22 minutes. When they are cool enough to handle safely, remove them from the muffin tins and let cool completely on wire racks before frosting.
For the frosting: In a large bowl, add the cream cheese, butter, vanilla, and ginger. Blend with an electric mixer until a creamy consistency is reached, then slowly add the powdered sugar to finish. Frost cupcakes and garnish with cubed crystallized ginger.
Recipe courtesy Savory Spice