By Kastle Waserman

Plan a COLORADO SPRINGS weekend for dining, relaxing and maybe a little adventure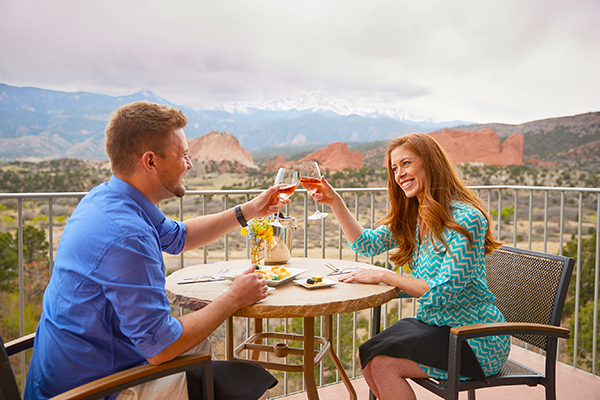 Photo courtesy of Garden of the Gods Resort
Look no further than Colorado Springs for a perfect couple's getaway where you can enjoy fabulous accommodations, delicious dining and a variety of activities from relaxing to rejuvenating. This picturesque destination, nestled in the Rocky Mountains, offers a blend of natural wonders, culinary experiences, outdoor adventures and luxurious resorts for an escape from everyday life.
Colorado Springs is all about awe-inspiring landscapes, including the majestic Pikes Peak and the stunning red rock formations at Garden of the Gods, so nowhere seems more appropriate than to book a suite at the Garden of the Gods Resort and Club. With a rich 70-year legacy and a recent $40 million renovation, you can't go wrong with this destination. Every corner of the resort offers expansive window views of the Garden of the Gods and the Rocky Mountains, including the aptly named Grand View Restaurant and the newly added private balconies in each guest room. According to Michael Garrow, vice president of sales and marketing at Garden of the Gods Resort and Club, guests and members will immediately feel enchanted and invigorated by the cobblestone drive, beautiful landscaping, trickling water feature and fresh mountain air.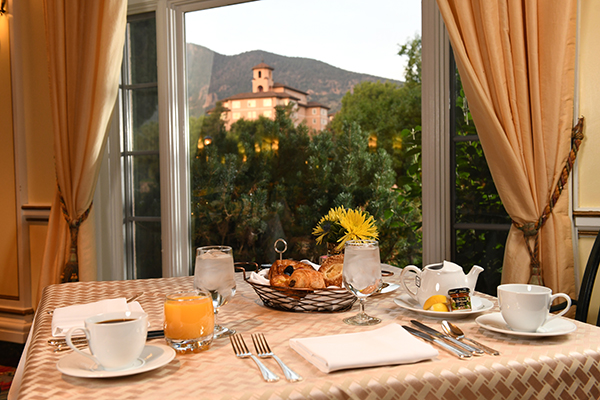 Photo courtesy of the Broadmoor, Lake Terrace Dining Room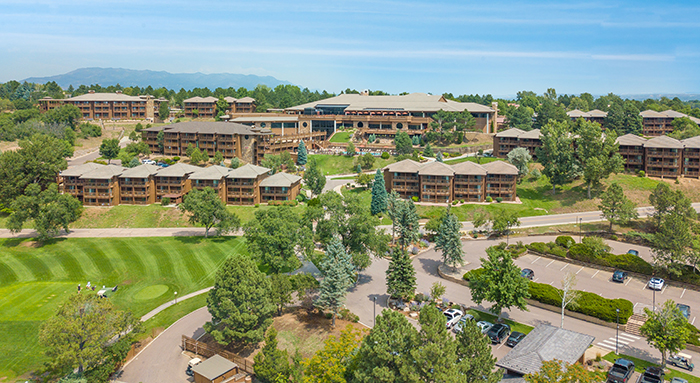 Photo courtesy of Cheyenne Mountain Resort
The Couple That Golfs Together
If playing golf while enjoying the views is your ideal vacation, there's no shortage of resorts with beautiful golf courses. Flying Horse Resort and Club offers on-site golf on two private 18-hole golf courses, one designed by the legendary golfer Tom Weiskopf and the other by golf course architect Phil Smith. At Cheyenne Mountain Resort, you can book the Tee for Two package, which includes two nights in a guest room with a private patio or balcony, a spa credit and two rounds of golf on 18 holes surrounded by sweeping mountainscapes on the championship-caliber golf course designed by Pete Dye.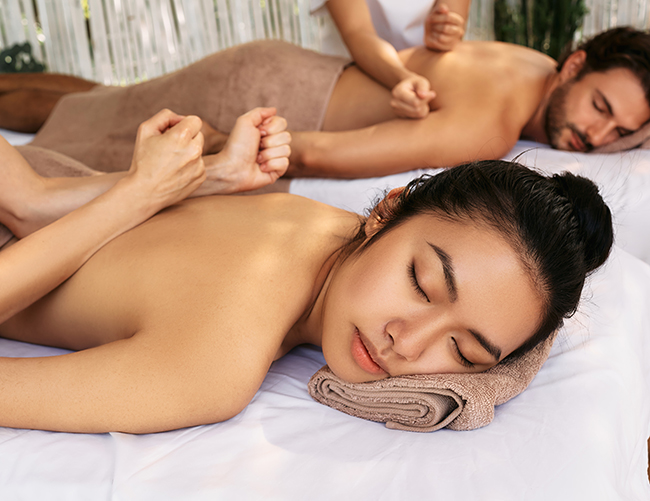 Spa For Two
They say you can't care for another if you don't care for yourself first. If time for self-care is on your to-do list, Colorado Springs resorts have some lavish spa offerings. Garden of the Gods Resort boasts an on-property spa, Strata, integrated with a wellness center, which provides indulgent signature massages and private relaxation that will spoil you, along with sparkling wine and seasonal treats. The Broadmoor offers a couples massage at their in-house spa, which recently received five stars from Forbes Travel Guide.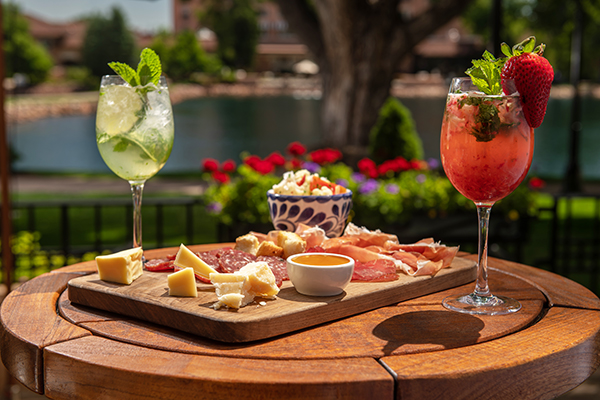 Photos courtesy of The Broadmoor
Good Eats
Indulging in good food is an essential part of any vacation. Award-winning restaurant
The Steakhouse atFlying Horse offers house-cut steaks, seafood, plus views of Pikes Peak, the Rocky Mountain Front Range and the United States Air Force Academy. You can also reserve a spot in the wine tower for a 4- to 7-course meal with wine pairing for each course. Jeffrey L. Howell, director of sales and marketing, describes it as the ultimate romantic dinner.
Another excellent option is Cheyenne Mountain's Gates Grille at The Country Club of Colorado. You can break your diet with a decadent prime rib dinner while enjoying the spectacular views of Cheyenne Mountain and the emerald fairways.
If you prefer a casual ambiance, you can try the Golden Bee at The Broadmoor, a historic, 19th-century British gastropub built in 1961, where you can settle into the warm atmosphere for any traditional English fare of fish, chips and beer.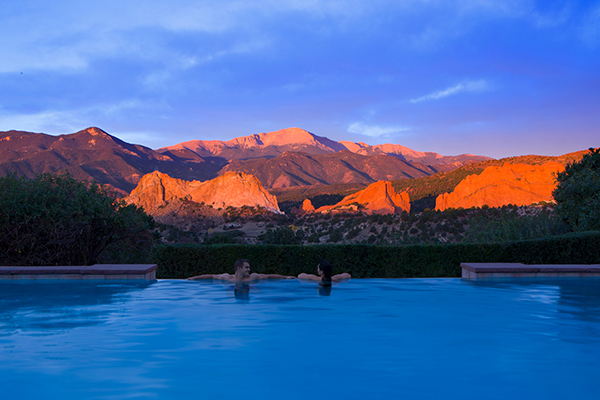 Photo courtesy of Garden of the Gods Resort
A Sense of Adventure
If you prefer being active with your partner, Colorado Springs offers abundant outdoor activities both around town and within the privacy of the area resorts. Enjoy the heated adults-only infinity pool at Garden of the Gods Resort.
At Cheyenne Mountain Resort, you can book open-air Jeep tours for unobstructed photo opportunities, go on Arkansas River tours—ranging in difficulty from high rapids to floats—or take advantage of the 35-acre private lake with complimentary boat rentals. There's also the chance to dip into the adults-only pool and hot tub.
Take a tennis or pickleball lesson, rent bikes from The Broadmoor's Outfitters, or sign up for a guided hike. If you're seeking an adrenaline rush, you can also try local activities like mountain biking, ziplining, exploring the Pikes Peak Highway or enjoying the views on the cog railway to the summit.
Snuggle Up
Of course, a couple's retreat is really about some alone time. If cozying up in a posh suite and ordering room service is all you want to do, the resorts are happy to oblige. Be sure to ask for special couple's packages, such as Flying Horse's Romance Package, which includes a night at the lodge, a couple's massage surrounded by rose petals and candlelight and an aroma soak while enjoying your choice of wine and cheese or a fruit platter.
If you're seeking a mesmerizing retreat, Colorado Springs is a convenient destination, offering numerous opportunities to relish with your loved one.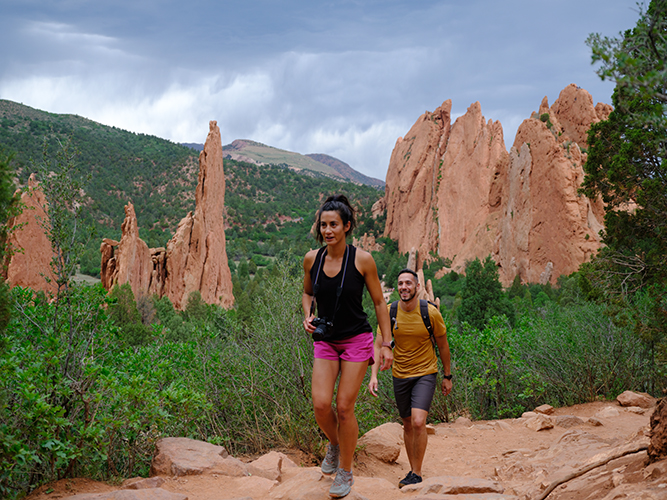 Top Resorts in Colorado Springs
Cheyenne Mountain Resort
3225 Broadmoor Valley Rd.
719.538.4000
cheyennemountain.com
Flying Horse Resort and Club
1880 Weiskopf Point
719.494.1222
lodgeatflyinghorse.com
Garden of the Gods Resort and Club
3320 Mesa Rd.
719.632.5541
gardenofthegodsresort.com
The Broadmoor
1 Lake Ave.
800.755.5011
broadmoor.com