Bring your favorite home-away-from-home a bit closer with a custom mural
People bring home treasures from their travels to mark the memories, but what if you could "see" your favorite destination every day right on your wall. A custom mural can do just that, in the sense that it can capture the landscape and scenery, the "feel" of a place, or it can mimic the design of a favorite spot.
That's exactly what painter Genevieve Smith did for a client who wanted to capture the feel of her favorite Palm Beach hotel. She commissioned Smith to turn her dining room into a reflection of the lobby of the Colony Hotel, which features a very midcentury jungle-vibe mural created in de Gournay wallpaper.
"[The client] is eccentric, she has a large personality, and her home reflects that," Smith says. "She loves the beach, and aspects in the mural are meant to express parts of the Bahamas where the homeowners got married. And there's lots of water to make it feel tropical."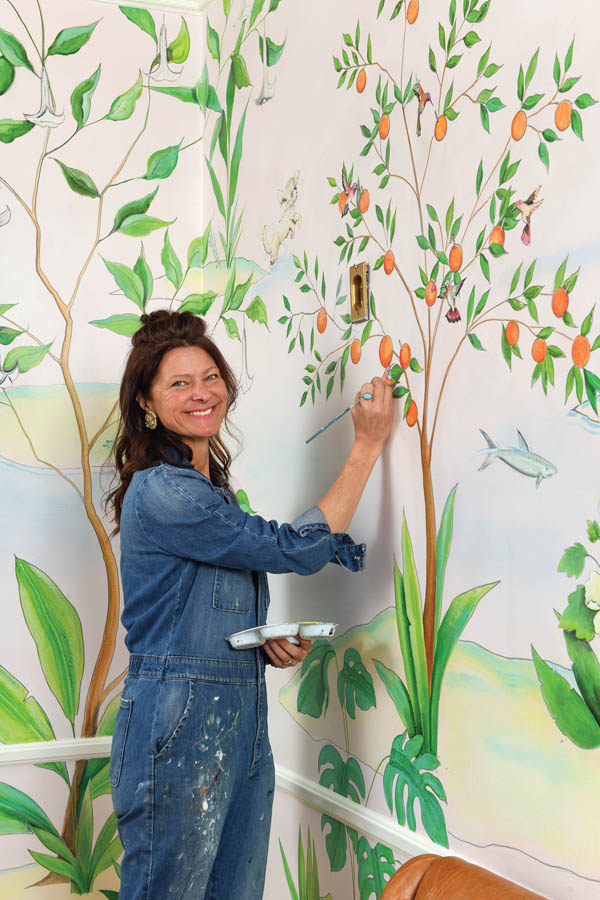 One of the most important considerations, says Smith, is that the mural be representative of you and your personality, not a trend. She likens it to getting a tattoo, but then qualifies: It's only paint. Do you want your space to feel cozy and tranquil or vibrant and lively? Smith tries to do as much planning upfront as possible to ensure she and her clients are on the same page about the design using mockups. If a client is somewhat unclear about what they want, Smith will create a collage of ideas to get the conversation rolling. By the time she starts painting, she's mapped out a strategy. "Sometimes it's specific, but often the room dictates what it needs to be," she says. "We have a game plan, but it is art … so it needs room to bend."
Smith began painting murals when she was only 11 years old—on her parent's garage no less. Their broad-stroke support spirited her passion for painting. She launched Magpie Painting in San Francisco in 2000 and relocated to Denver in 2010. Today, Smith whiles away her days, brushes in hand, painting interior and exterior murals and decorative painting for both individuals and businesses. She works in concert with designers and builders to create custom, one-of-a-kind spaces.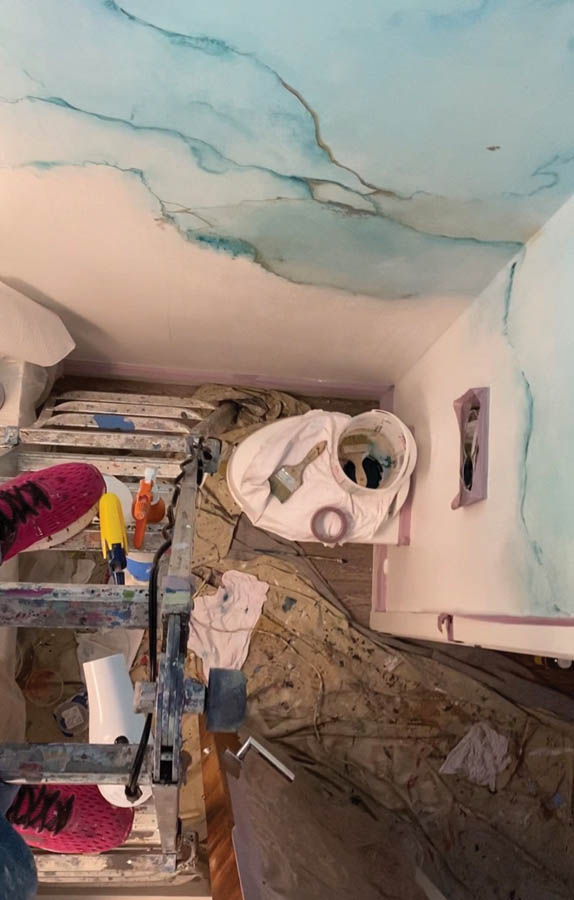 In addition to more traditional landscapes and scenery, she also creates slightly abstruse artwork in the form of misty, gray-on-gray forests or kaleidoscopic ribbons of light filling a lounge to accomplish an "Aurora Borealis" feel. "I want the work to be meaningful and reflect who my clients are," Smith says, "and to push my artistic abilities." She's pushed her skills by painting a rendition of Coolidge's "Dogs Playing Poker," floor-to-ceiling line-drawing florals, the Denver skyline, animals, larger-than-life mimosas, Day of the Dead Catarinas and so much more.
"You get to a certain age when you think, 'I can't do that'" says Smith. "[A mural] is about allowing yourself to be experimental and not fearful. Don't color inside the lines."
Learn more
magpiepainting.net or follow @magpiepainting for inspiration for your own mural.