A year ago, the world was just starting to understand the severity of the coronavirus pandemic. Never in our wildest dreams could we imagine that over 1.8 million people would die from COVID-19 by the end of 2020. Even now, it all feels surreal—not something we are experiencing, but something we should be reading about in history books. Nonetheless, our current situation is indeed real. With drive-by funeral services, Facetime farewells and goodbyes through layers of PPE, or just a quick phone call, the effects of our communal grief are starting to take hold.  
Without faith-based rituals of mourning, we've often been left all alone to grasp the mental and physical holes left by those we have lost. No comforting hugs, no holding hands, no crying together, no traditional ceremonies — no sitting shiva, no Holy Communion, no Buddhist burials, no Śrāddha … and the list goes on.
"My husband has a friend whose parents were in a nursing home. The grandmother got sick and had to be separated from her husband. When she was dying, her husband couldn't see her, so her children took an iPad and a ladder to the 2nd story window of their dad's room for him to say goodbye to his wife of more than 60 years. They did the same thing for her funeral — it was so unimaginable." said Megan Shoflick, the Momma part of the Covituary duo. "It was stories like this, as well as images of thousands of body bags being stored in trailers that drove us to feel the need to do something."
"On one of several walks during quarantine, my mom and I were discussing how sad it was that so many people were dying, and their loved ones couldn't memorialize them or celebrate their lives. We decided we wanted to do something to give back to all those grieving," said Samantha Shoflick, Megan's daughter and co-founder of the memorial website.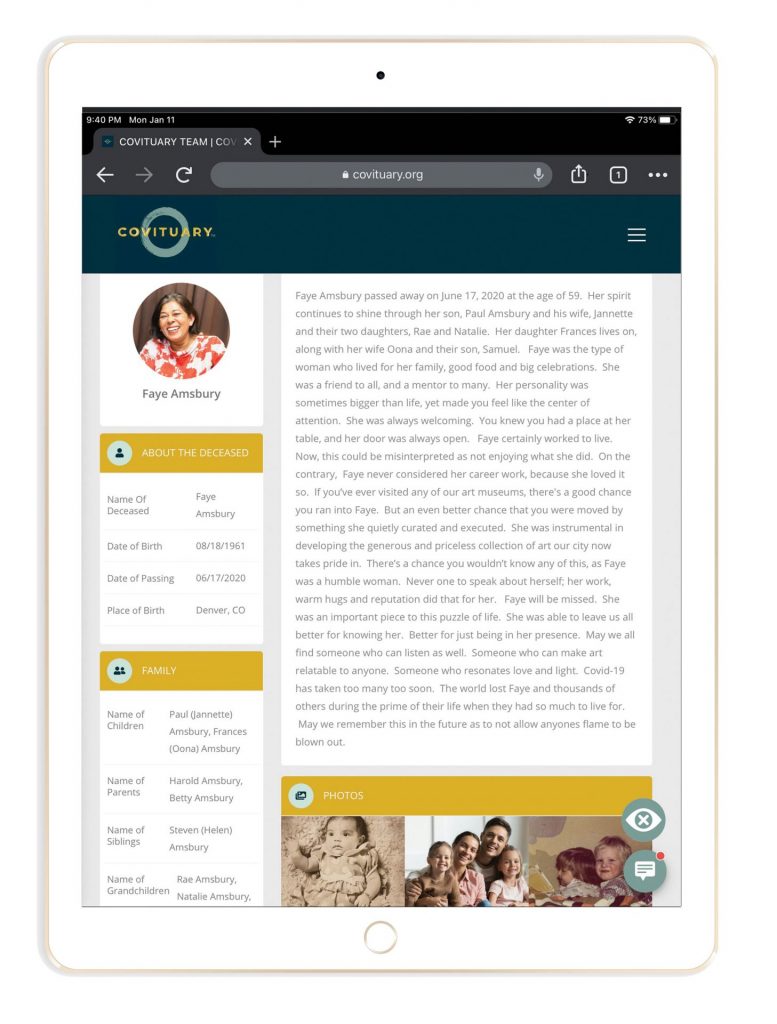 And do something they did. They created a welcoming space for friends and family to "gather" to celebrate, grieve and connect over their loss. Covituary.org is a free site that is becoming a living memorial in every sense of the word. It's a communal space for people to write a tribute, post pictures and videos, list family members and share milestones of the people the world lost to this pandemic. This "coming together" is a big part of what makes us human and helps us move through the stages of grief.
Even if you haven't personally lost a loved one to COVID-19, experts say we are all grieving and mourning loss. Combine this global grief with the necessary isolation we all must partake in to decrease the spread, and it's easy to understand why Covituary.org has become a haven for all to take solace and share in their own humanity.