Turn off the alarm clock this weekend. You deserve a leisurely start to your Saturday and Sunday with a luxurious brunch. Stay in your jammies and eat in or … put on something other than yoga pants to go out. We have suggestions for both.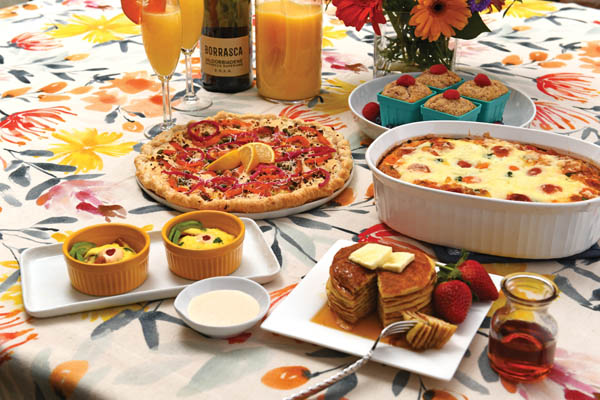 Let's Go Out
Feeling cooped up? As restaurants loosen capacity numbers, brunch is back. We've collected a few restaurant options to brighten your weekend. Note: all restaurants listed here are following COVID guidelines with limited seating, sanitation and employee monitoring. Reservations are a must, as is a mask.
Danielle's Scratch Kitchen, Castle Pines Village
For a few months, brunch was put on the back burner at this popular Castle Pines restaurant. The wait is over. Danielle's Scratch Kitchen is back on for Sunday brunch and we couldn't be happier. As always, the fare is Italian- inspired – pancetta, Polidori sausage and cremini mushrooms are tucked between a fluffy three-egg omelet; fried calamari and cherry peppers with house made marinara and lemon aioli. And, there are always nods to American morning favorites, including fried chicken and buttermilk biscuits doused in country sausage gravy. daniellesscratchkitchen.com
La Merise, Cherry Creek North
Linger on the patio with a glass of champagne or take a table inside at this classically French bistro with weekend brunch. Transport yourself to Paris with garlic-butter escargots, oysters on the half shell and steamed mussels in a wine cream sauce. Ooh, la, la, try the crepes filled with spinach, gruyere and topped with Hollandaise, or the beef tenderloin eggs and a peppercorn sauce. For the sweet tooth at your table, there is a classic French toast with crème Anglaise. lamerisedenver.com
Perfect Landing, Centennial
Even though getting on a plane isn't commonplace these days, you can at least dream of travel as you watch the planes fly in and out of Centennial Airport (you might even see an F-18 parked outside, as military pilots go out of their way for a meal at Perfect Landing). Father-and-son team, Jim and Sean Carter, are keeping the 30-year tradition of breakfast (lunch and dinner) alive at Perfect Landing. The portions are generous and the menu is diverse with eggs and breakfast meats, lobster and classic bennies. Don't miss the sizable number of Mexican breakfast items, which are favorites among the regulars, such as pork green chili breakfast burritos, chile relleno and eggs and carne-asada breakfast tacos. theperfectlanding.com
Stay In
We've also put together some recipes to help you up your brunch game at home.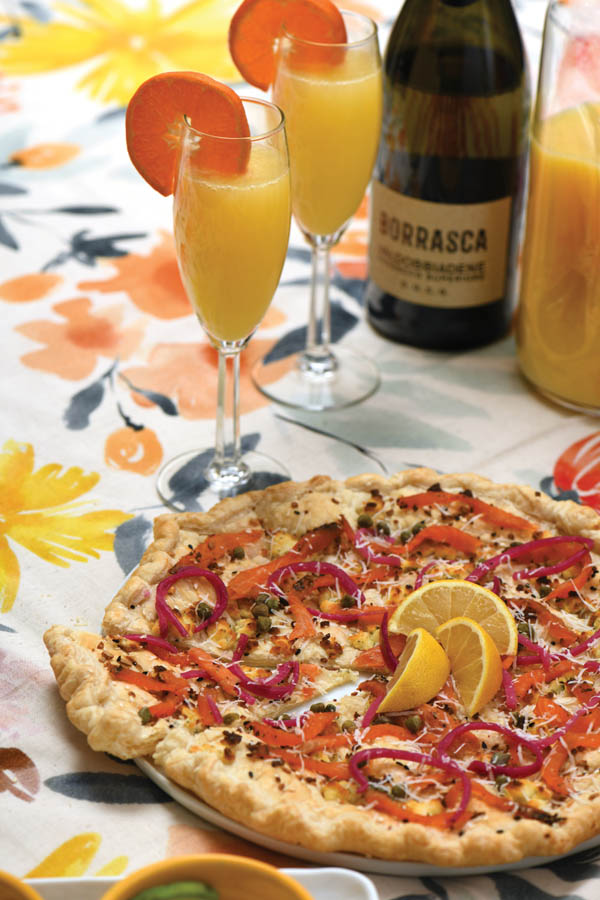 Smoked Salmon Pizza with Everything
Light and flaky puff pastry meets the salty umami flavors of smoked salmon, pickled capers and
onions plus "Everything but the Bagel" seasoning mix in this easy to craft morning pizza.
Make 6 servings.
Ingredients
1 all-butter frozen puff pastry sheet, thawed (rectangle or round shape)
2 Tablespoons extra-virgin olive oil
Everything but the Bagel seasoning blend
4 ounces spinach artichoke spreadable cheese or other soft herbed cheese (like Boursin)
Pickled red onions (see below)
Pickled capers
2-3 ounces Pastrami-style smoked salmon, sliced into thin slivers
¼ cup grated pecorino Romano cheese
Lemon for garnish 
Method
Preheat oven to 425 degrees. Line baking sheet with parchment paper.
Unroll puff pastry. Crimp the edges to form a one-half inch rim that resembles a tart pie or pizza.
Poke holes with a fork every 4 inches in the dough. Brush with olive oil and dust with bagel spice. Dot the top with the soft herbed cheese.
Bake for 20-25 minutes until pastry is golden. Top immediately with pickled onions, capers, salmon and grated cheese. Serve with lemon wedges.
Pickled Onions: Thinly slice ½ red onion, place in a lidded jar. Fill halfway with red wine vinegar.
Let sit for a few hours or overnight. Frequently turn upside down to release the liquid from the onion. Note: If you are in a hurry, place sliced onion and cover with vinegar in a glass dish. Microwave for
3 minutes. Cool and serve.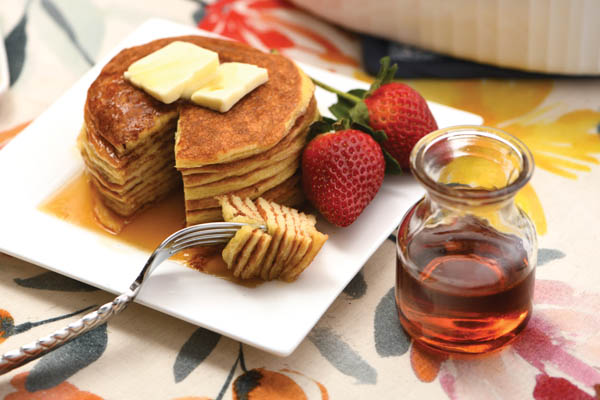 Gluten-free Almond Flour Pancakes
Are you looking for a high-protein morning treat that is filling and just sweet enough to be satisfying but not cloying? This recipe is the answer.
Ingredients
3 eggs
1 cup cottage cheese
2 Tablespoons Greek yogurt
½ teaspoon salt
1 cup almond flour
1 ½ teaspoon baking powder
½ teaspoon baking soda
3 Tablespoons butter, melted
1 teaspoon vanilla
Method 
Place all ingredients in a blender and mix until very well blended. The texture should be like thick cake batter.
Preheat an oiled skillet to medium-low heat (the almond flour will burn if the heat is too high).
Pour scant quarter cup in the pan for each pancake. Be patient, wait for the batter to bubble and the sides to cook before turning over.
The pancakes will deflate as you take them out of the pan, it's OK.
Serve with fresh berries and syrup of your choice.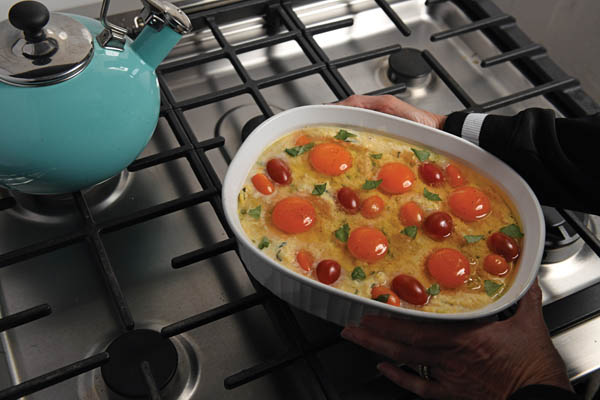 Oven-baked Polenta with Roasted Tomatoes, Eggs and Pesto
We love the ease of this impressive recipe. You can pour yourself an extra cup of coffee while the polenta bakes in the oven – there is no need to stand by the stove stirring constantly. Don't want Italian? See our note at the bottom for a Mexican variation. Makes 6-8 servings.
Ingredients
1 cup loosely packed fresh basil, torn into pieces
½ fresh parsley, coarsely chopped
6 green onions, slice all the way to the top and set aside the green tops for garnish
3 garlic cloves, minced
1 teaspoon salt
½ teaspoon pepper
1 cup polenta (corn grits, not quick variety)
1 cup parmesan cheese
1 cup heavy cream
1 ¼ cup milk
1 ¾ cup chicken stock
3 Tablespoons butter, melted
1 cup grated mozzarella cheese
6-8 Tablespoons prepared pesto
8-10 cherry tomatoes
6-8 eggs
4 Tablespoons extra-virgin olive oil
Crushed red pepper, optional
Method
Preheat over to 400. Stir basil, parsley, garlic, green onion ends and half the green tops, salt, pepper and polenta in a high side baking dish. Stir together parmesan, cream, milk, stock and butter. Pour over vegetable grit mixture. Stir and bake for 20 minutes. Whisk and return to oven for another 20 minutes. Remove from oven. Increase temperature to 425 degrees. Stir in half the mozzarella. If the polenta is stiff, add more liquid. It should be creamy.
With a spoon make wells in the polenta and place a scant tablespoon of pesto in each well. Place tomatoes around and press into the polenta. Crack and egg in each pesto divot. Top with remaining mozzarella. Bake 10 – 15 minutes, depending on how you like your eggs. Remove from oven, drizzle with olive oil, season with salt and pepper and sprinkle with crushed red pepper if desired.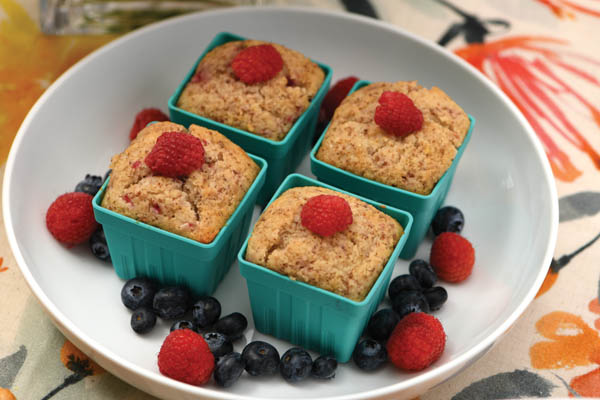 Raspberry Ricotta Muffins
These cake-like muffins are dotted with bright raspberry flavor and moist from the rich ricotta cheese. Makes one dozen.
Ingredients
1 ½ cup flour
½ cup sugar
2 Tablespoons ground flax seed
2 teaspoons baking powder
½ teaspoon salt
¾ cup ricotta
1/3 cup avocado oil
Zest of one lemon
2 Tablespoons lemon juice
1/3 cup milk
1 egg
1 teaspoon vanilla
1 cup raspberries
Method
Heat over to 375. Line muffin baking dish with paper liners. Stir together dry ingredients. Place all wet ingredients, except raspberries, in a mixing bowl. Whisk until well blended. Add dry ingredients and stir just until blended (do not over mix). Add raspberries and stir a few times until the berries break up and are blended throughout. Bake for 20 minutes until a toothpick comes out clean and the top is just firm to the touch.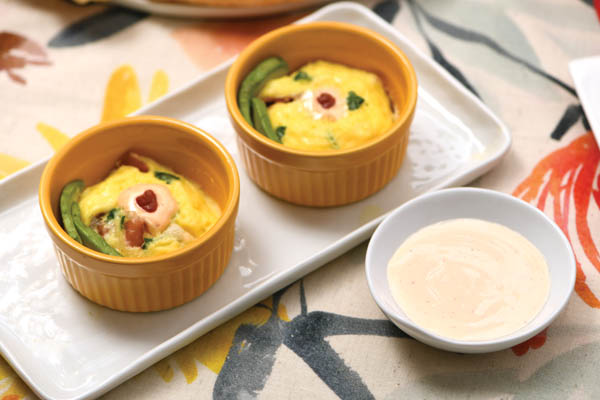 Microwave Prosciutto Egg Bites and
Dijon Sriracha Sauce
These little eggy jewels of goodness are quick and impressive (no one will know they came from the microwave). Makes 2 servings.
Ingredients
Cooking oil
2 eggs
¼ cup cottage cheese
2 Tablespoons melted butter
1 slice prosciutto, torn into small slices
2 Tablespoons shredded gruyere cheese
Salt and pepper
Boiling water
Glass baking dish
Individual Ramekins
Method
Oil ramekins well. Place prosciutto and cheese in the bottom of each. Puree eggs, cottage cheese, butter, salt and pepper in a blender. Strain mixture through a wire mesh sieve and into each ramekin. Place ramekins in the baking dish and pour boiling water so it reached halfway up the sides. Cover with plastic wrap. Microwave on high for 2 – 4 minutes until eggs are set. Turn out onto serving plate. Serve with sauce.
Dijon Sriracha Sauce
Ingredients
2 Tablespoons
1 Tablespoon sour cream
½ teaspoon lemon juice
¼ teaspoon Dijon mustard
1 teaspoon Sriracha sauce
Salt and pepper
Method
Blend ingredients together in a glass bowl. Warm in microwave for 30 seconds, stir and warm again at 10 second intervals until smooth.
Recipes by Kimberly Lord Stewart