By Kendall Kostelic
… And has her sentiments thwarted by brews whose superstar ingredients are global culinary mainstays.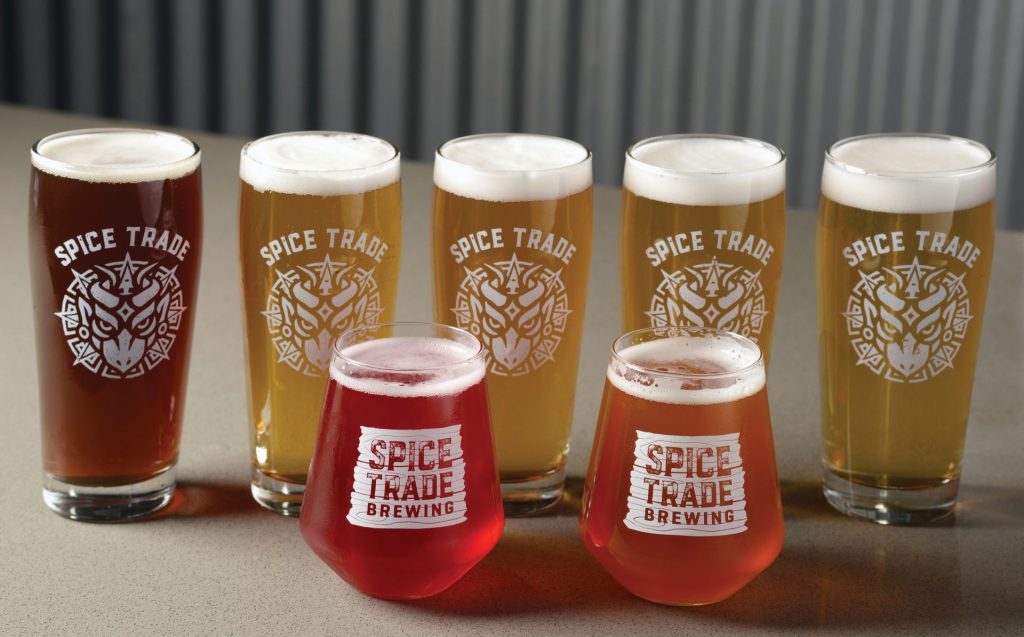 I am (said the magazine editor humbly) Spice Trade Brewery and Kitchen's ideal customer. … Half of me is still mystified as to how I came to be the recipient of such fanfare.
Ambulating into the brewery's expansive international-street-market-style space on a typical Thursday, where I am ushered to the table closest to the walk-up food-stall-like window looking into the kitchen, I know who I am: a nearly native Coloradan who just—forgive me—does not enjoy beer. But one pour later of Spice Trade's Scarlet Giant gose and Chai Milk Stout, a Great American Beer Festival silver medalist, and I am reaching the conclusion of an oddball identity crisis: I like beer. This beer.
"You're our favorite type of person—the person who just wants to explore a little bit and is a little adventurous, because there's always something fun to try on our menu," says head brewer and co-owner Jeff Tyler.
That brew menu has won 16 medals thanks to a singular "fun" focus: "We brew beer inspired by culinary ingredients around the world," Tyler says. "Our beers have a strong relationship with food." But my revelatory tasting was a smash because of Spice Trade's new surroundings: In a shopping center in Greenwood Village, Spice Trade has opened its novel stand-alone location, where the veteran brewing program and a new full-service food project combine to celebrate international cuisine like never before. The DTC food-and-drink utopia opened its doors in May.
"Historically, the spice trade refers to when exotic ingredients started to travel outside of Southeast Asia to different parts of the world along trade routes," Tyler says. "Our brand is the reverse of that: At that time the ingredients were starting in Southeast Asia and making their way into the world. Now we're trying to capture those ingredients, which have been developed into different flavor profiles across the world, bring them here and showcase them through beer. … And in the kitchen, the concept is to pair that globally inspired beer with street food from around the world.
"A lot of brewpubs will do food and beer pairings, but they'll frame it like, 'Hey, this dish happens to go with this beer,'" the brewer continues. "But with our kitchen we're going to start designing beer recipes from scratch to go with a specific food item or set of dishes on the menu, and vice versa. For example, we'll have a Sichuan Saison on tap as of November that we're pairing with our Salt and Pepper shrimp tacos, available now."
The beer menu has always been set up for unique success in the Centennial State's craft beer industry. First, there are the stars of the show: the ingredients.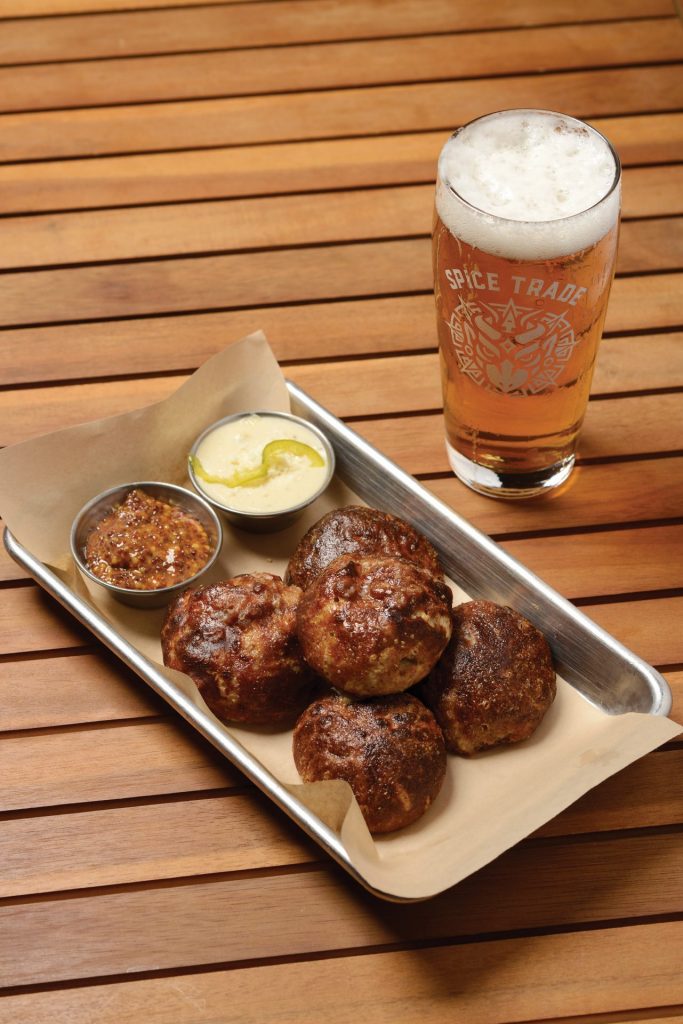 Tyler does look locally for recipe staples—he uses tea from The Boulder Tea Company, for example—but, globally, scoops up authentic flavors almost no one else can get. "We partnered with this company out of New York called Burlap and Barrel that specializes in direct-from-farm, single-origin spices," Tyler says. "So they'll go to, say, Turkey, find a spice that has a unique flavor from that region and set up a direct purchase agreement with the farmer that grows it." Another example: The chai spice in the unexpectedly light Chai Milk Stout is the family recipe, coming all the way from Nepal, of Dol Bhattarai of Yak and Yeti Restaurants—Tyler's fellow co-owner, his restaurant the original stomping grounds of Spice Trade (more on that in a moment). Second, there's the history. "Spice Trade was born out of the Yak and Yeti Brewpub in Olde Town Arvada, which is an Indian, Nepalese and Tibetan restaurant that also happened to have a brewery in it. My business partner, Dol, owns all of the Yak and Yeti Restaurants and this was his second location. Beer is not necessarily integral to Nepalese or Indian culture. When he purchased the location, it had previously been an English brewpub. He decided to keep the brewery end of it and continue brewing beer—which has been happening since 2008. I came on board in 2016 and in 2017 we rebranded the brewery portion of the business to Spice Trade."
A professional brewer and home cook, Tyler found the perfect counterparts to mirror Spice Trade's values in the kitchen with Jason Bray and Amy Crowfoot of J Street and Hunje Food Trucks and Catering—Bray being a professional chef and home brewer. "I dreamed even 15 years ago of having a brewery gastropub to do exactly what I'm doing now," says the chef.
Tyler, Bray and Crowfoot are far from the only ones to see how harmoniously Spice Trade fits into the culinary scene. "As someone who has always loved the way that food pairs with beer, it's cool to see a brewery taking a really direct approach in how their beer flavors could enhance food," says Chris Topham, co-owner of Denver's Asbury Provisions and all-around beer authority. "They've also been very thoughtful in the combinations of style and adjuncts: The use of lemongrass, kaffir lime and ginger in the Thai Tripel pairs just as well with the traditional fruit esters of a Belgian tripel as it does with Thai cuisine. And the use of jalapeño in their light, crisp Jalapeño Pilsner makes me ready for a big plate of nachos, eaten outside on a sunny day! I can't think of any other Colorado brewery focusing on beer that is made to be paired so specifically with food."
Both the beer and food menus are seasonal, with all worldwide ingredients and fare themes on the table—especially in the Greenwood Village space, the most room Spice Trade has had to work with in its 12 years of existence. "We really wanted a place where we could have a thriving neighborhood taproom and brewery, which is hard to do in Colorado because there are so many breweries. The big things for us were: where is not saturated? And where can we go where people will appreciate the higher-end beer and food we're trying to do, albeit in a casual way? … There are so many people coming in and going, 'Finally! Finally something cool!'"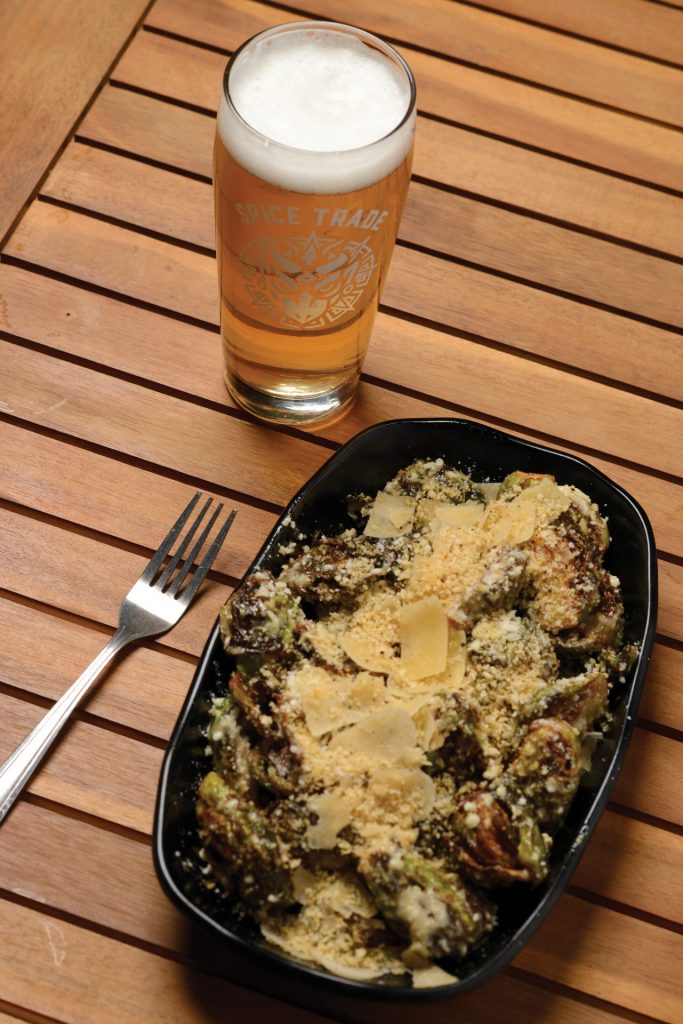 What's special on tap now: the Oktoberfest menu, running through October, with currywurst with Spice Trade's signature fries and curry ketchup sauce, macaroni and cheese made with a house-fermented beer-mustard cheese sauce, a seasonal charcuterie board, 15 beers for pairing (including Festbier, an Oktoberfest-style lager) and more.
The next time I talked with Tyler after my personal global, epiphanous food-and-drink tour, he was getting ready to transform 153 pounds of pure pumpkin puree into a Spice Trade fall staple, the Pumpkin Spice latte ale—just another original recipe that has a knack for procuring fans in the unlikeliest of places: "We have a farmer who takes a lot of our spent grain to feed his animals. He always says the animals' favorite batch of grain they get all year is from our Pumpkin Spice Ale, because it has all that pumpkin puree in it."
ABOUT THE BEER
"Our TAMARIND BELGIAN DUBBEL is one of my favorite
fall beers," Tyler says.
"But in the summer, nine times out of ten I'm going for the LITTLE UMBRELLA, our passionfruit mango wheat brew," Tyler says. "It's super refreshing, super dry, kind of tart." For anyone who looks for those tropical, sharp fruity hints all year long, I can tell you this brew hits the spot no matter the season.
Rather than single hop beers, where hops are rotated in one base recipe to
highlight distinguishing factors, "we do single spice beers," Tyler says. "So in our SINGLE ORIGIN SERIES, we keep the recipe the same but swap the spice each time we brew it. Our current CURED SUMAC spice is from Turkey. It's typically used as a finishing spice, kind of like you would use lemon peel—it's a little bit acidic."
SPICE LITE, a cream ale brewed with cucumbers, is a more traditional staple on Spice Trade's 20 taps. "If you like Coors Light, you'll probably like Spice Lite," Tyler says.
One of the chief benefits of a bigger space is having more room to brew. "We've been doing this JALAPEÑO PILSNER for a long time," Tyler says. "We just started canning it and really have been having a hard time keeping up with the demand."
If the hibiscus, key lime, coriander and Utah rock salt notes don't convince you to knock back the SCARLET GIANT sour, maybe this will: "The Scarlet Giant is actually fermented with a wild yeast that we cultured off a hibiscus flower at the Denver Botanic Gardens," Tyler says.
In addition to the impressive volume of unadulterated pumpkin puree in Spice Trade's #PSL, or PUMPKIN SPICE latte ale, one of the establishment's best-selling seasonal creations, you'll sample a base beer designed to taste like pie crust—layered with brown sugar, a house pumpkin-pie spice blend, Madagascar vanilla and Denver's Novo Coffee. "We actually mix the pumpkin puree in our mash ton with all the barley, so the beer
gets this really bright orange hue to it pretty early in the process," Tyler says.
HOPS, SCHMOPS: most Spice Trade brews may be innovative, but they're beer nonetheless.
Some beer fans have questioned if what Spice Trade is offering is too distinctive to be considered beer. To that query, Tyler answers: "To a lot of people, beer should be something with malt, hops, water and yeast and that's it. To be honest, a lot of people in the beer industry are like that: They just want beer to taste like beer. And that's OK. That's why we have simple beers on the menu too. Even myself: I like these culinary flavors but I also just want to have a beer sometimes—so it's nice to have a simple German Pilsner and simple cream ale, Spice Lite, on the menu. At the end of the day, we try to be as inclusive as we can—we have a wine menu, a cocktail program and nonalcoholic options like CBD sparkling water for people who don't drink beer, don't want a beer or just aren't interested in what we are doing. That being said, I think some people can be narrow-minded with what beer should be. Beer is a food product and there's a wide range of things you can do with it."
And Topham, who has been a leader in the beer bar scene for 24 years, says: "I think traditional beer enthusiasts would just need to look at the history of beer to know that spices, fruits and vegetation have been used in beer making for centuries. Hops, although being the dominant flavor profile we associate with beer today, shared the stage with other flavors throughout Europe in gruit-style beers: Brewers used pretty much whatever spices, roots and vegetation that were available to them, along with hops, to flavor ales. Even more recently, the Belgians used fruit in their lambics at the turn of 20th century—and beer styles like Belgian witbier and sahti use spice as a major flavor component. It seems to me that Spice Trade is in keeping with a long tradition of using spice and other additives in experimentation and should absolutely be considered 'real beer.'"
SPICE TRADE BREWERY AND KITCHEN
Greenwood Village 720.710.9508 | spicetradebrewing.com