Whether it's a fancy built-in bar, a rolling cart or just a corner of your patio table, there's no wrong way to set up your backyard bar for outdoor entertaining. The challenging part is stocking it with all the ingredients and tools you'll need for master mixology, all summer long. Here, we share local experts' favorite tips for everything from the basics (a few select bottles and mixers) to a fully stocked at-home watering hole that rivals even the trendiest cocktail bar.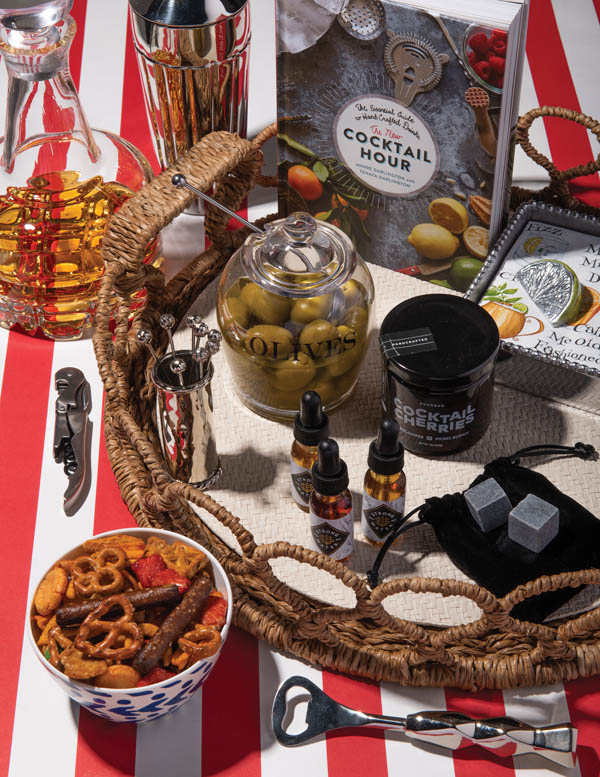 SPIRITS
The Basics: For a liquor lineup that makes all guests happy, Nic Chase of Heritage Wine & Liquors in Centennial recommends having at least one type of each liquor category on hand:
• Vodka
• Gin
• Rum
• Whiskey
• Tequila
• Blending liquors like orange liqueur, amaretto, and bitters
Don't forget vermouth: Alexander Kady of Denver's William Grant & Sons, a large-scale distiller and distributor, says it can be sweet, dry or blanc, but he recommends Dolin. "It comes in a 375-ml bottle, and that's good because vermouth, like wine, can spoil, even when refrigerated."
Also have a few mixers on hand like juices and sodas, plus garnishes like lime wedges, olives and cocktail cherries. Then stock a cooler or large bucket with ice, beer, wine and soft drinks, and you're ready to please everyone.
"There are many more ingredients you can add," says Kady, "but these, combined with fresh-squeezed juices and a classic simple syrup, can make a plethora of cocktails."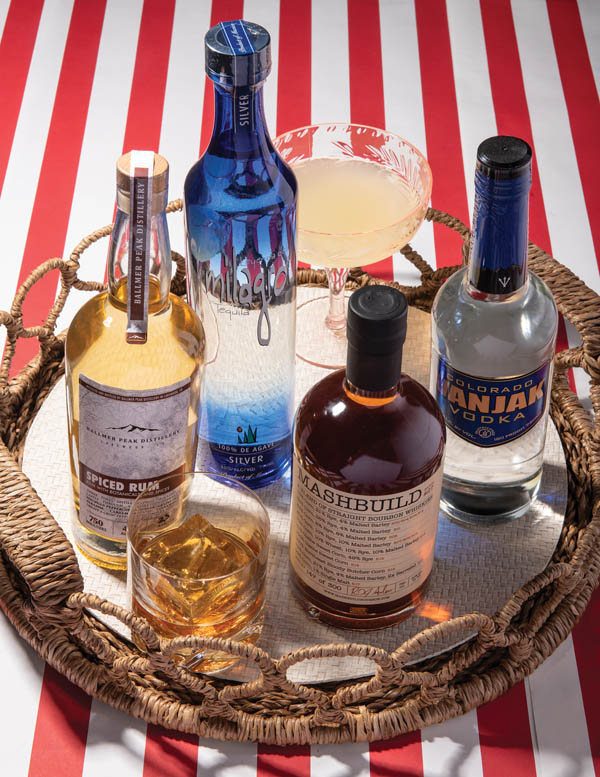 Take It Up a Notch: Not content with just the basics? Chase says this is where it can get complicated (and also fun), as each type of spirit also has different sub-types. Vodka, for instance, can be corn-based, wheat-based, rye-based or flavored/infused. "Check out Colorado-made Vanjak vodka," he suggests. "The affordable price doesn't sacrifice quality, it's made locally in Golden from 100 percent corn, and it's gluten-free."
Pro Tip: Laura Tarket-Johnson of T is for Table in Centennial loves two products that take the guesswork out of making cocktails—you won't need mixers, and you'll have more time to mingle with guests. "Teaspressa makes naturally infused sugar cubes that you just drop into the alcohol and it makes a mixed drink," she says. "And Lush has mixes that make slushy frozen cocktails."
TOOLS OF THE TRADE
The Basics:
• Ice bucket
• Tongs
• Cocktail shaker
• Shot glasses
• Bottle opener
• Corkscrew
• Bar towel
• Stir sticks
Take It Up a Notch:
• Citrus zester
• Muddler
• Strainer
• Automatic wine opener
Pro Tip: Ice cubes melt quickly in the heat, watering down your cocktail creations. Tarket-Johnson suggests non-melting cubes made of stainless steel, soapstone or marble. She also recommends her favorite bartending guidebook: "The New Cocktail Hour: The Essential Guide to Hand-Crafted Drinks."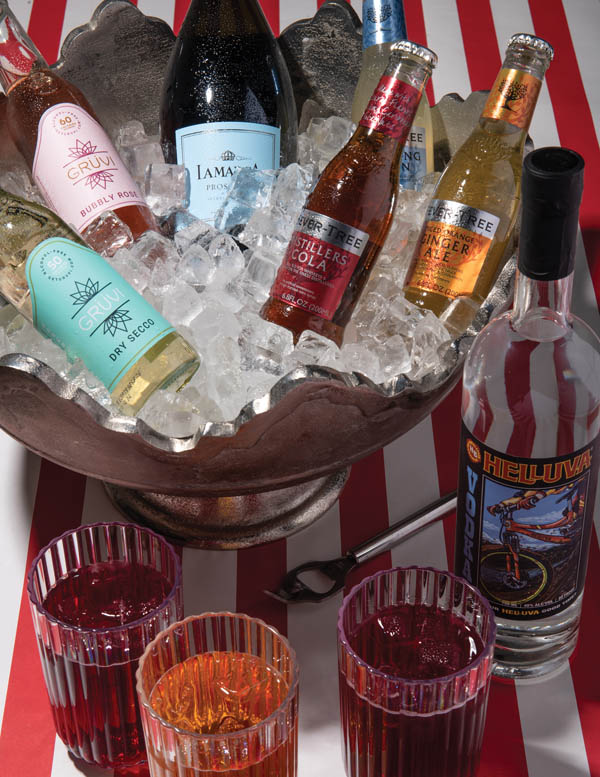 SERVEWARE
The Basics:
• Unbreakable glasses
• Cocktail napkins
Today's unbreakable options go well beyond red Solo cups. Tarket-Johnson likes the stainless steel wine cups made by Swig; they're insulated to keep drinks cold. Sur La Table makes high-quality faceted highball glasses and wine glasses that you'd swear were fine crystal until you picked one up.
Take It Up a Notch: Glasses in every shape and size, and melamine snack plates if you're serving food.
Pro Tip: Just say no to boring, solid-color cocktail napkins. You can really have fun (and continue your chosen party theme) with pretty or humorous napkins, says Tarket-Johnson.
Heritage Wine & Liquor
heritagewineandliquor.com
T Is for Table
tisfortable.com