Want an easy way to connect with nature? How about a cleaner, healthier home environment? The key to both is house plants. Like an even easier way to achieve both? Plants delivered right to your front door!
A handful of local businesses are making it easy for you to bring air-cleaning, attention-sharpening, productivity-boosting greenery into your home—and, yes, studies have shown houseplants can provide all of these benefits.
You can embark on your green-thumb adventure in a variety of ways. Shop your local garden store, visit a specialty plant shop or order online for home delivery or a subscription plant service.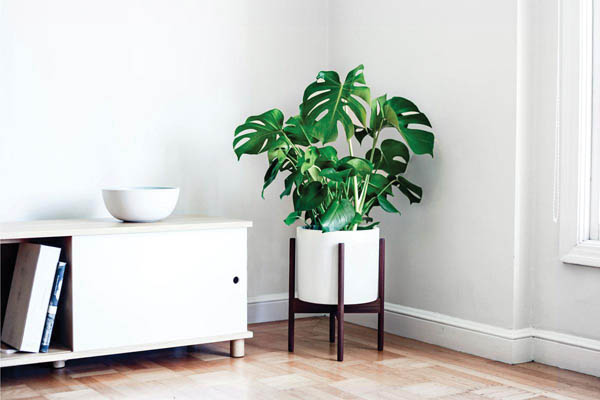 Léon & George's Castle Rock outpost offers delivery of single plants or bundles. All plants come in simple, sleek pots with a few neutral color options (mostly black, white, gray and sand). You'll find a couple of dozen plant varieties in every size, from small (about 8 inches tall) to extra-large (up to 5 feet tall). The Sill, another online retailer, offers a similar variety of plants, but you can sign up for a subscription to have a new plant delivered each month if you're looking to build a mini jungle!
Speaking of jungle, some local specialty plant shops will provide in-house assessments to help you grow and care for your indoor wilderness. The experts at Denver's ReRoot will assess your plant needs, observe the environment and help you build a plan to "reroot" your home. Then, they'll supply you with everything you need, including care instructions. And if your thumb is not so green, they'll provide weekly, bi-weekly or monthly services to keep your lush live plants in tip-top shape.
Tigerlily Goods provides customized plant-scaping services, too. Whether you're looking for lush botanicals or a custom succulent garden, Tigerlily delivers. The plant experts assess your space and give a detailed estimate based on your needs and budget. Then, technicians design and install your plantscape. They also provide a maintenance schedule to ensure your plants always look as fresh as the day they were installed. Have a little green delivered for an attitude and air quality adjustment in your home.
Léon & George, Castle Rock
The Sill
thesill.com

ReRoot, Denver
Tigerlily Goods, Denver