Walking into Three Saints Revival is like being transported to a different time and place. Although it's downtown Denver, the vibe and even the views suggest London or New York. And if you take the light rail to Union Station, it's a short walk to enter this sophisticated yet playful atmosphere, inviting guests to explore and—dare I say it—dream.
Robert Thompson, who created and grew Punch Bowl Social to 20 locations from its original Denver roots, opened Three Saints Revival in the former Hearth & Dram space in the Hotel Indigo. You'll see his continued impact on the Denver dining and bar scene evident in this new concept. Additionally, well-known Denver chef John Broening is the executive chef alongside Patrick Williams as beverage director, bringing a wealth of knowledge, innovation and creativity to the experience. All of it is anchored by a Med-centric spirit and craft cocktail program, creative wine lists and a culinary backbone of craveable tapas and small plates that embody every edge of the Mediterranean—from Spain to Provence, Italy to Israel, Egypt to Greece.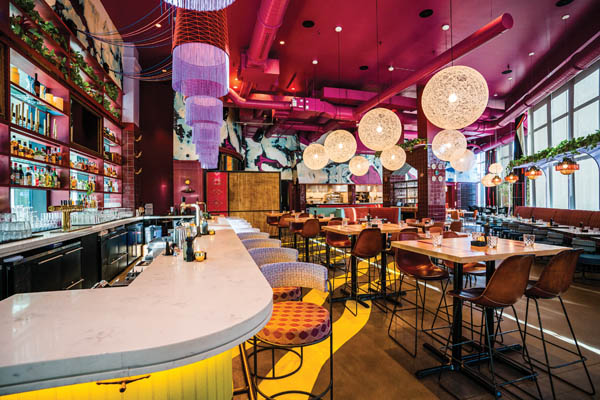 The saintly number three helped shape the concept; keeping in mind the importance of company, conversation and cuisine as well as the past, present and future. The power of three came to Thompson in a dream that was the impetus for this new concept. "I worked on this idea for a long time as concepting has always been my stress reliever," shares Thompson. "This one in particular was close to my heart as I was moved by the inspirational 'Bohemian dream sequence' that came to me, with a focus on the word 'revival': a return to light and living in this vibrant, warm, intensely colored world. I want guests to experience coming out of the dark night into this incredible realm."
Thompson's dreams and wonderous voyages through the subconscious have guided the artistic presence and design of Three Saints Revival. Guests are invited to celebrate that creativity and feel inspired and awakened by the possibilities around them.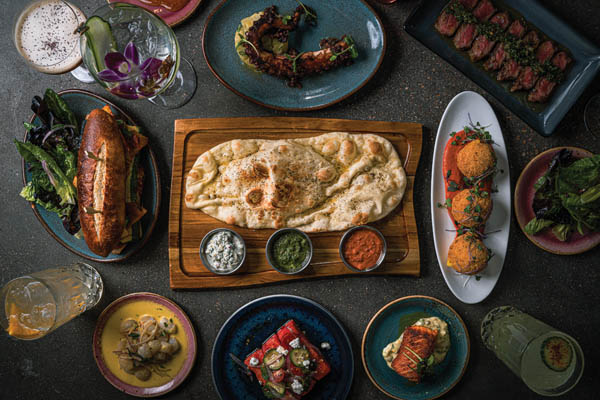 Dishes to dream about include their pappardelle with dill, pistachio pesto and shiitakes; shrimp and chorizo with garlic, lemon and sherry butter; citrus olive oil cake; chocolate cremeux with salted caramel and candied almonds. And don't miss the cocktails. The Amara Fresca Pan's Cave and Monarch of the Sea are among our top picks.
Three Saints Revival, Denver
720.707.3500; threesaintsrevival.com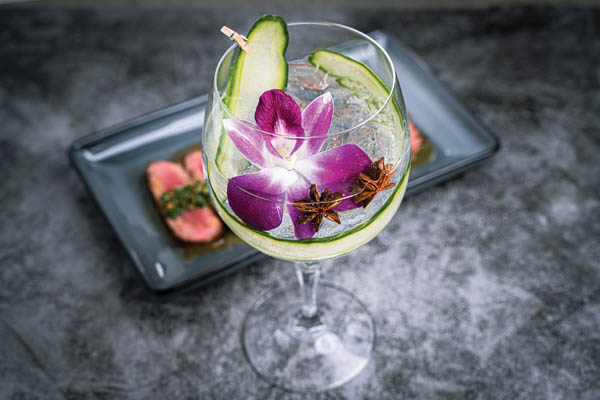 Three Saints Revival Mediterranean G&T
Ingredients
2 ounces Stray Dog gin
5 ounces Fever Tree Mediterranean Tonic
For garnish:
1 cucumber swath
1 edible orchid
2 whole star anise
Mist of kummel liqueur*
Method
This drink is all about the presentation—use a peeler to cut a long, thin swath of cucumber; arrange the swath at a 45-degree angle inside the glass. Scoop ice into a Burgundy glass until ⅔ full; add gin then top with tonic. Using garnish tongs, place orchid on top of ice; add star anise pieces and push down into ice against the side of the glass so they stay upright. Mist drink with kummel and enjoy.
*Kummel is a dill, coriander, cumin liqueur that you can find at crafty liquor and wine stores.